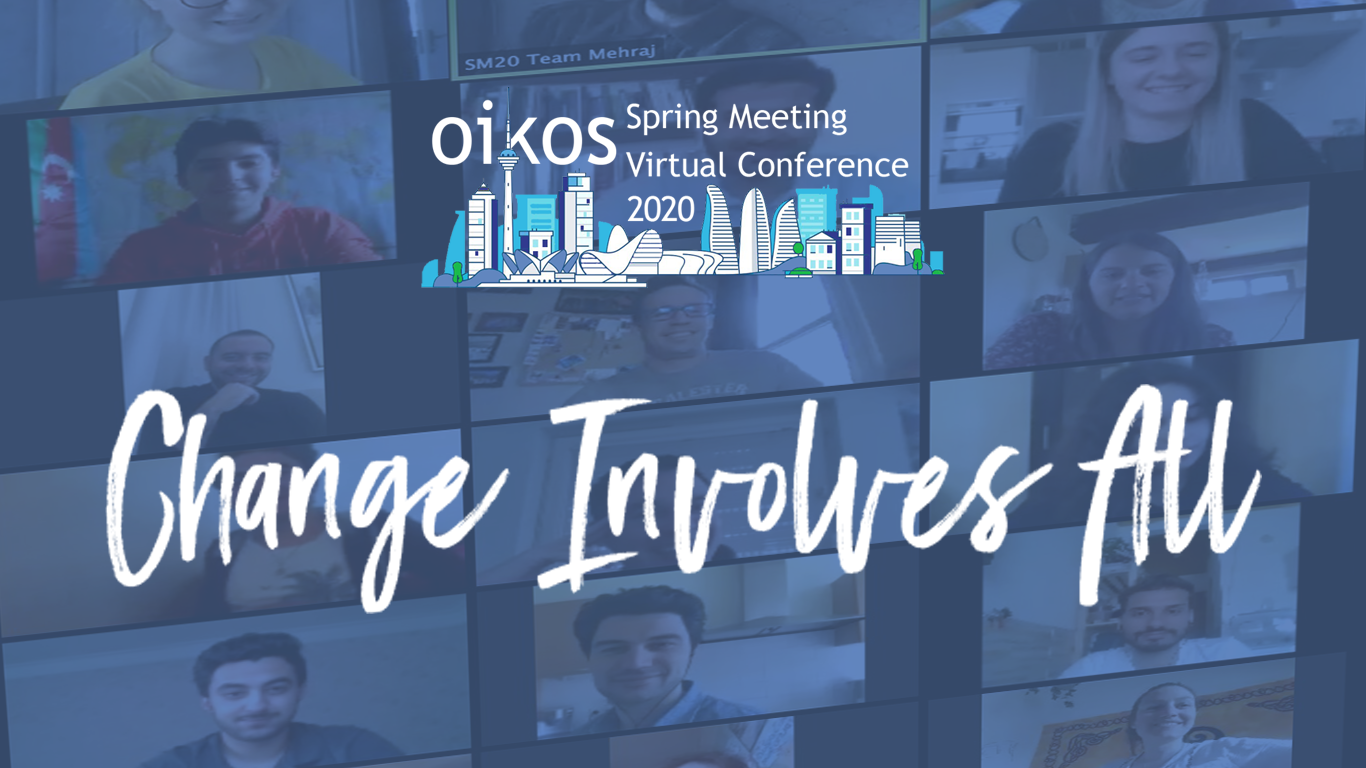 Spring meeting 2020 took place in April this year. The oikos Baku team had a difficult task on their hands to make a big shift from onsite to online format in a relative short period of time and they managed to make not only an amazing but also the most inclusive Spring Meeting yet.
This year, oikos Virtual Spring Meeting 2020 explored the idea of Inclusive and Sustainable Development as it has evolved over time since the revolutions in the West, and in the developing countries since 1950 when development economics and development policy were officially born. Nowadays, in lots of societies, many people are excluded because of their gender, ethnicity, age, sexual orientation, disability, or poverty. The effects of such exclusion are staggering, deepening inequality across the world. Hence, Inclusive and Sustainable development ensures that all marginalized and excluded groups are stakeholders in development processes. It is defined as a policy that deliberately seeks to achieve concurrently a dynamic relationship between individuals and societies. The active pursuit of this process must, therefore, be the basic aim of development policy. In short, Inclusive development is development for all the representatives of the various societies as mentioned in the motto of Spring Meeting 2020 – #ChangeInvolvesAll
Recently, Inclusive Development has become a topic of crucial importance all over the world. This concept extends traditional models of economic development, with particular emphasis on health equality, human capital, environmental quality, social protection, and food security. According to The World Economic Forum 2018 reports (Inclusive Development Index – IDI), Azerbaijan holds the third-highest rank in an inclusive development index among the economies of 79 developing countries.
Particularly, Baku is one of the foremost spots in the world with more than 4 million people with 15 different nationalities as well as religions and gives the real feeling of inclusiveness. Thuswise, in this venture, oikos Baku emphasized Social, Ecological, and Relational Inclusiveness to be the topics of Spring Meeting 2020.
An above-mentioned fact made us consider and work on one of the biggest challenges in the developing world.
Session Inclusion of children and young people with disabilities – why all planning must start from them, not end with them, explained Gwenn Burchell representative from UAFA who talked about inclusion in the education process and showed various examples and tools used in the international and local context.
Climate Change is a topic, we never forget about both in oikos international and local level. Shahana Bilalova, Research Associate at Caspian Center for Energy and Environment at ADA University touched the Climate Change and Inclusive Development: Contradictory or Complementary?
Maryam Majidova, Chairwoman of the National Assembly of Youth Organizations of the Republic of Azerbaijan (NAYORA) approached the topic on the "Why of Inclusive Youth Work". Purposes of Youth Work, the Role of Inclusion in Youth Work, Benefits for Youth NGOs were discussed in this session. Maryam also revealed 8 Steps to Create an Inclusive Organization. What is Youth Work? According to the survey during the session, Youth Work is experimental, voluntary, accessible to all, participatory, concerned about quality, youth-centric, value-driven, willing to share power and decision making, respectful of youth as equals, knowledgeable about youth issues.
Virtual Spring Meeting 2020 included productive seminars, discussions, and workshops to exchange innovative ideas among more than 50 enthusiastic youths from all over the world. The participants gained a chance to directly communicate with the expert and ask them relevant questions.
As a result, the participants gained deeper insight into the topic of Inclusive & Sustainable Development and broadened their horizons by collaboration with peers from diverse backgrounds. The Virtual Conference proposed new perspectives to look at the trend and empower participants to gain more control of inclusiveness in their cities and assisted youths to realize the following objectives and aims:
– comprehending the implication of ID along with sustainability in a global framework;
– focusing aspects of ID on the global population and transforming the current concept to the strategy of oikos;
– ensuring adequate actions of marginalized groups toward several aspects of inclusive growth;
– to promote the spirit of unity through the friendship and mutual understanding towards globalized, sustained and inclusive economy among individuals and marginalized groups in transforming platforms.
We would like to thank everyone who participated and helped make this year's Spring Meeting happen! It was a trully wonderful experience in the most unusual of circumstances, but it still showed the power of our community and the willingness to take part in the change towards sustainability even from within our homes.
Author: oikos Baku Spring Meeting Team