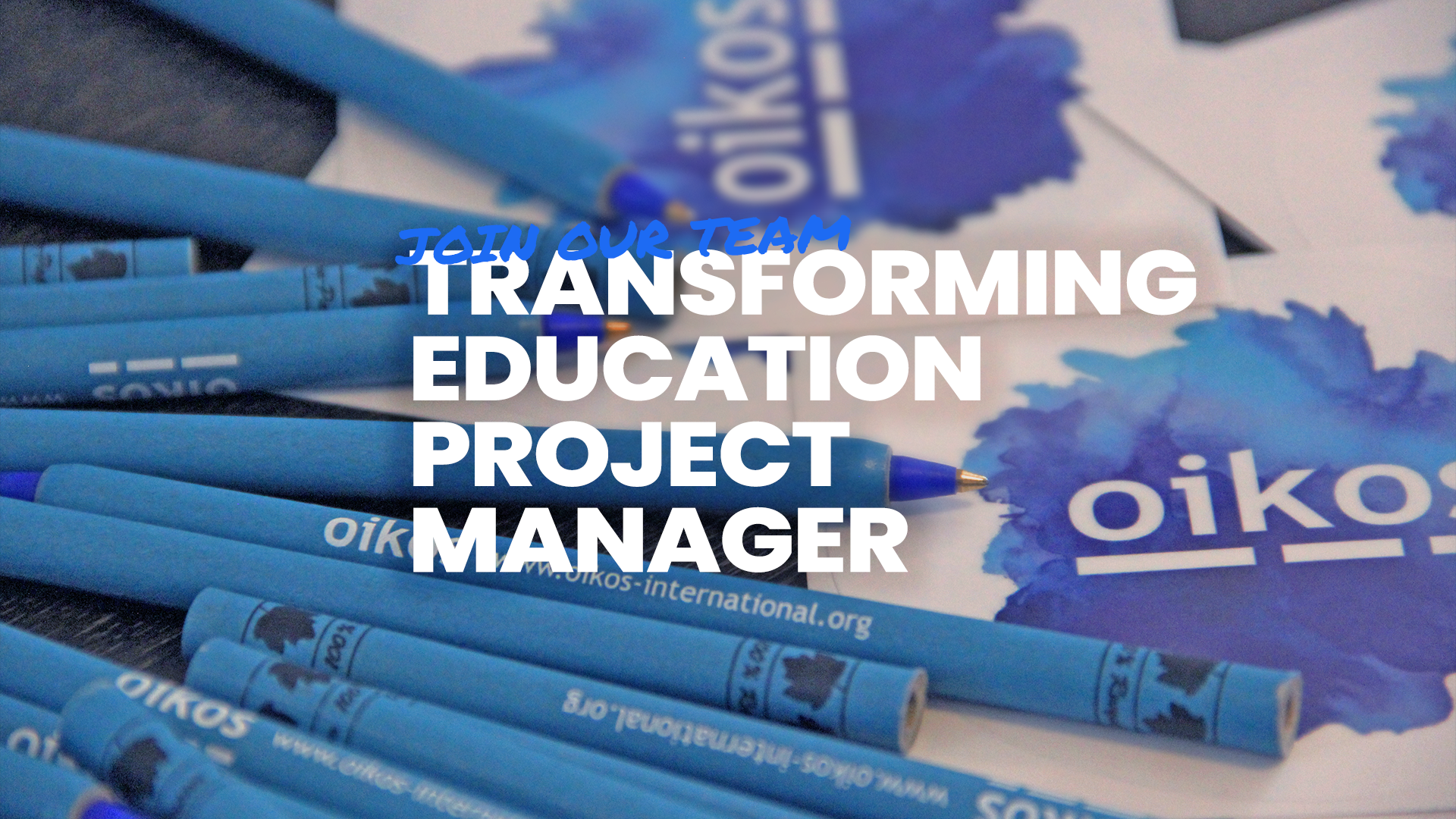 Paid position at oikos International
oikos International is an international, student-led non-profit organization for sustainability in economics and management. Founded in 1987 in Switzerland, it empowers student change agents worldwide to embed sustainability in academia and from there into day-to-day business, government, and personal activities. One of the core missions of oikos is the transformation of education. For that, oikos launched the "transforming education initiative", with three core programmes: oikos Camp, TE Squad and oikos Academy. The transforming education initiative aims at supporting students to lead the change in their local universities in order to incorporate a sustainable perspective in their teachings.
Job Description
You are independent, flexible, and resourceful, and you enjoy working with students and young professionals in a dynamic, international, and remote team?
You have…
… knowledge about leadership, facilitation and hosting online spaces
… a commitment and knowledge about transforming education
… drive for creativity and dynamism
… a high proficiency in English written and spoken
… event and project management skills
… good command of Office Suite and familiarity with Google Drive
… interest and commitment to the oikos vision and mission
… good organizational and time management skills
… the ability to anticipate needs, solve problems in a collaborative environment, and sensitivity to deadlines
… the ability to work under pressure and multi-task
… the ability to protect confidential and sensitive information of the organization

Then we might have a fantastic opportunity for you to work with the oikos TE Program!
Your tasks include, but are not limited to:
Coordination of the TE Squad
Facilitate and co-create the TE Squad space. TE Squad is an online monthly gathering of chapter representatives which aims at fostering knowledge sharing, connectivity between chapters and the development of local projects in the transforming education field.
TE Squad is a dynamic space and each chapter representative acquires an active role in it. Thus, it is expected from oikos international to adopt a supporting role and develop activities such as: meeting moderation, communication, information gathering etc.
oikos Camp organizer
Oikos Camp is a week-long programme in which oikees from all chapters join in international teams to develop projects related to economics and business management education and sustainability.
The future applicant will be in charge of organizing, communicating and logistically handling oikos Camp's next edition. This role includes:
Communicating the updates of Camp in the oikos webpage
Booking all needed accommodations and items needed
Creating of applicant and participants' guides with relevant information
Reporting obligations
Fundraising
Support the fundraising for the program. This may include grant writing, networking etc.
Mentoring
Answer chapters' petitions, questions and doubts in regards to the transforming education initiative. Provide aid when needed to their inquiries.
Be Part of the oikos International team
Work with the diverse team on the organization's strategy, help shape the path oikos takes in the future and support the development of the oikos community. Exchange with the team regularly to provide feedback and find synergies between the organization's different programs and support each other's work.
Benefits of working for oikos International
Become part of a network of student change agents & alumni, all working for a more just & sustainable tomorrow
Work with purpose in a multicultural, dynamic, international team that puts a high value on walking the talk and innovating ways of working
Learn about the day-to-day working of an international organization and gain insights into the global opportunities and challenges of international NGOs
Gain experience in working remotely in a virtual office
Get a coach to develop yourself further
Connect to an extensive network of various NGOs
Important Information
Application deadline: September 30th
Starting Date: October 17th 30% for onboarding (12.6 hours per week); November onwards 50% (21 hours per week)
Duration: 1 year (extendable), 50% (21 hours per week)
Salary: 1000 CHF per month
Location: remote
Recruitment Process
If you are interested in the position, send us your CV (max. 1 page) and a brief motivation letter or an application video (max. 2 pages/3 minutes) by September 30th. The letter/video should outline why you want to take up the position and what makes you a suitable candidate.
We would be interested to know…
Why do you want to work for oikos?
What do you uniquely bring to the table, including your background in the "topic of the application"?
What makes for the ideal company or job, in your opinion?
How did you find out about this job opportunity and, if someone referred you, including the person's name.
Please, email the required documents to laia.batchelli@oikos-international.org with the subject line "Application for Project Manager at Transforming Education Initiative." For any further questions, please reach out to us via email.
Interviews will be held throughout the period of application until October 7th.
Ideally, you would start your new role with a 30% commitment (12.6 hours per week) on October 17th to get you settled in and work 50% (21 hours per week) from November on.