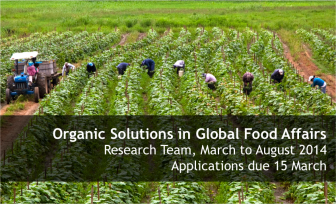 Today, complex problems like the food crisis is not just an environmental issue, but concerns business, politics and economics as well. Through journalistic content and a multidisciplinary angle, we want to report on the economics and politics of global food production and consumption, with a focus on organic solutions.
You'll be joining a global team of 10 student reporters to be led by two editors: Jori Lewis, an award-winning journalist currently based in Senegal and specializing in environment, agriculture and global development, and Athena Tacet, a Montreal-based data journalist and reporter specializing in foreign affairs, social, political, economic, and human rights issues.
They'll push you outside your "academic comfort zone" through teaching basics of journalism and helping you research and produce in-depth stories, portraits of interesting characters in the space, and report on events and trends.
You'll also be supported by the editorial and production team of Student Reporter, as well as a community of 100+ alum reporters and contributors.
Parallel to the newsroom team for this topic project, we will be working with endeva, a research consultancy to produce a report. Click here if you're interested in being a research assistant for this.
More information about the call here.
Apply until 15 March 2014!