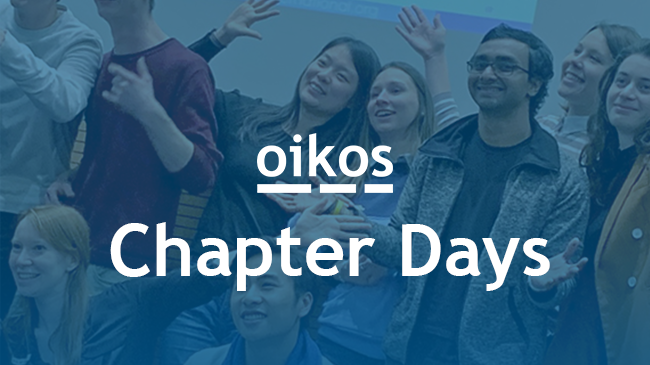 Chapter Days is the two-day event for the members of the oikos community where they have a chance to exchange and learn from each other about oikos International, chapter projects and events, colaborations and other and teach each other in different fields like Marketing, Recruiting, Teambuilding, Strategy and so forth.
Chapter Days 2020 was trully a colorful and energizing event. We are very happy that even without meeting onsite in Baku, we were able to exchange and connect. In total, we had 73 oikees from all around the world joining sessions during the two days and 21 chapters were represented.
We sense that we successfully used this digital platform to plant some seeds for the whole community for the months to come.
But what happened?
We started with a slow morning full of fast information on oikos International's activities & opportunities. After sharing our (lunch) break we then dove into our curriculum change initiative, gaining a better understanding of how we can directly influence our environments.
We kicked off the second day with 3 rounds of open spaces – designed from us for us. From grounding meditations to IT workshops or Team building, these 11 sessions gave us a glimpse into the huge resource and knowledge base our community has to offer.
The closing afternoon was well spent in bilateral exchange and circle discussions on our key take-aways, the development focus and acupuncture points of the chapters and the questions that might guide our way as a community.
Do you want to dive deeper into what has been said? Searching for some of the presentations or other resources? Do you still have some important thoughts to share?
Then – this working doc is for you! You can find harvests for all sessions bundled at one place and even the video recordings will be linked soon.
From what we heard we believe that this encounter was encouraging and empowering for us as individuals, chapters and the community as a whole.
Let's build on these two days and to use them as a driver for more collaboration, cooperation and exchange. We encourage you to continue networking – in whatever way suits you best!
We would like to thank everyone taking part in the Chapter Days!