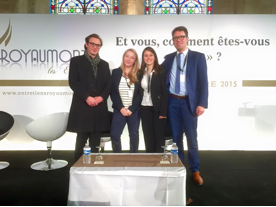 On December, 4th and 5th 'les Entretiens de Royaumont' took place at the Royaumont abbey, near Paris, France. This annual event gathers French CEOs and top managers from several companies since 2003. Subsequent to its success year after year, the event also went to take place in Warsaw, London, Madrid, and Rabat. The goals remain the same in every city: make national CEOs meet to discuss a specific topic, raise awareness and network.
The topic for this year 2015 in Paris was "Et vous, comment êtes vous 'green'?", ie. "and you, how are you 'green?". French CEO and top managers from companies such as Michelin, Airbus group, Axa, BNP Paribas, KPMG, Air France, Engie, Orange, Mazars, Goodplanet fondation and akuo energy, were all present. Among the participants were also the Prime Minister of Benin's, Lionel Zinzou; Mongolia's Minister of Environment, Battsereg Namdag;  the renown French chief cook, Alain Ducasse; the president of the Internationale Automobile Federation, Jean Todt; and so forth.
The talks were on different sub-topics in order to try to tackle the question holistically:
French companies and 'green'; 'Green innovation' ; How did you become 'green'?; Get engaged 'green' for ocean; Get engaged 'green' for one's colleagues; Get engaged 'green' for one's clients; For a 'green compatible' economical model; Thinking 'green' favours long term; The 'green' conviction; Growing, developing and becoming 'green'; Make French adopt 'green'; Student engagement for 'green'  From agreement to action: how to succeed the transformation of our models? and Transform the French society.
oikos was invited to give a talk to express youth voices with regards to the topics mentioned. Axel Bozier, an oikos Reims (France) alumni, Amélie Plateau, oikos Lille president, and Clémentine Robert, oikos international Executive Board Member represented oikos at this event. The feedback after oikos' talk was very good and we hope for student voices to be increasingly heard, each year, whatever the topic thanks to the help of different student organizations. It is important for CEOs to know what youth thinks and how they act on the tackled topic since students will be tomorrow's leaders and employees of these companies.
The videos, in French, are not available yet but will be posted on the website soon (http://entretiensroyaumont.org/wordpress/?page_id=5).
To know more about the Entretiens de Royaumont follow this link: http://entretiensroyaumont.org.
A special thank you to Théodore, a French student studying in the University of St Gallen, who thought of oikos to represent the youth voice during the Entretiens de Royaumont!
Watch oikos' intervention here.
Written By: Clementine Robert