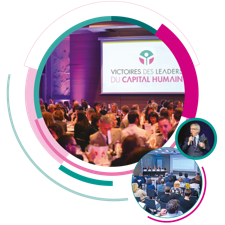 On December 10th, oikos attented the "Victoires des leaders du Capital Humain" awards, a human resources awards events, organized in Paris by Leaders League, an organization that offers media and business services for leaders. This event gathered HR directors from 500 different companies such as Mazars, PepsiCo France, Air France, Agence France Presse, Novartis Pharma, BNP Paribas Real Estate, Schneider Electric, Groupe Adecco France, Robert Walters, Danone, ID Logistics and so forth.
In the afternoon several workshops took place and were followed in the evening by a networking dinner and awards ceremony.
The workshops were the following:
Transformations: What are the tools to face quick and deep changes ?
ͻ Changes should be done quickly, on a large scale within a company, with the collaboration of all the managers and when everything is fine, otherwise it is already too late.
ͻ Matrix structure is now too complex. Classical managerial structures are being destroyed but new structures are not well defined yet which leads to many human resources issues.
ͻ Transformation should be thought by the creative class because they are disruptive and not by those who have the power. The problem for companies is not the creativity of conception but the creativity of implementation. That is why lean management is often not really adapted. Transformation is not having an idea but implementing it!
Conclusion: It is needed to be exemplary in the original HR tasks to be then credible in the transformation.
2. Well being at work and new organizations: love marriage or marriage of convenience.
ͻ Work organization becomes more and more individualistic but still standardized. For instance, home office can be allowed according to the employee's performance, seniority, etc.
ͻ Trust is the simple motto essential for the well being at work. It is provided by a clear environment, rules, listening, allowing feedback, encouragement of initiatives, etc. Tension between caring and performance. Some companies start to let go a bit and develop its collaborators' soft skills.
ͻ Social dialogue is very important: the most competitive companies are those which have good social dialogues. To give meaning for the employees is important too.
Conclusions: Employees should be put back at the core of the company.
3.Strategies and social relations: new deal.
ͻ To keep trust it is necessary to keep regular social relations.
ͻ It is not easy today to be a union activist: understand the context, make decisions not understood by the employees, educate the employees, etc. Moreover they are less representative which make collective bargaining agreements difficult to get.
ͻ Conciliating social time, economical time and juridical time is hard and changed in 2008.
Social relation should be included in the strategy and should not be a positive element aside. Share the strategy with all the employees is necessary from a social and economical point of view.
ͻ Often changes step by step within a company work better succeed in having greater and bigger changes than to try to change everything in just one time.
4. Diversity, gender equity, and CSR: how to get out of the usual tracks?
ͻ CSR: to set up quantitative goals in volume and value within a delimited time would allow companies to go faster and further on that topic. Good way to leverage motivation among the employees. Digital transformation and CSR can be contradictory in many ways.
ͻ Diversity: provides collective creativity and collective intelligence. The goal today is to highlight the differences which will bring value.
ͻ A diversity policy should survive to three different leaders before being part of the strategy.
Conclusions: Mission accomplished when CR/Diversity department will not exist anymore (everything will be integrated)!
Awards winners:
Quality of working life: iAdvize
CSR, diversity, gender equity: Gecina
To know more about Leaders League visit http://www.leadersleague.com.
To know more about this specific award (only in French): http://www.victoiresleaderscapitalhumain.com.
Written by: Clementine Robert