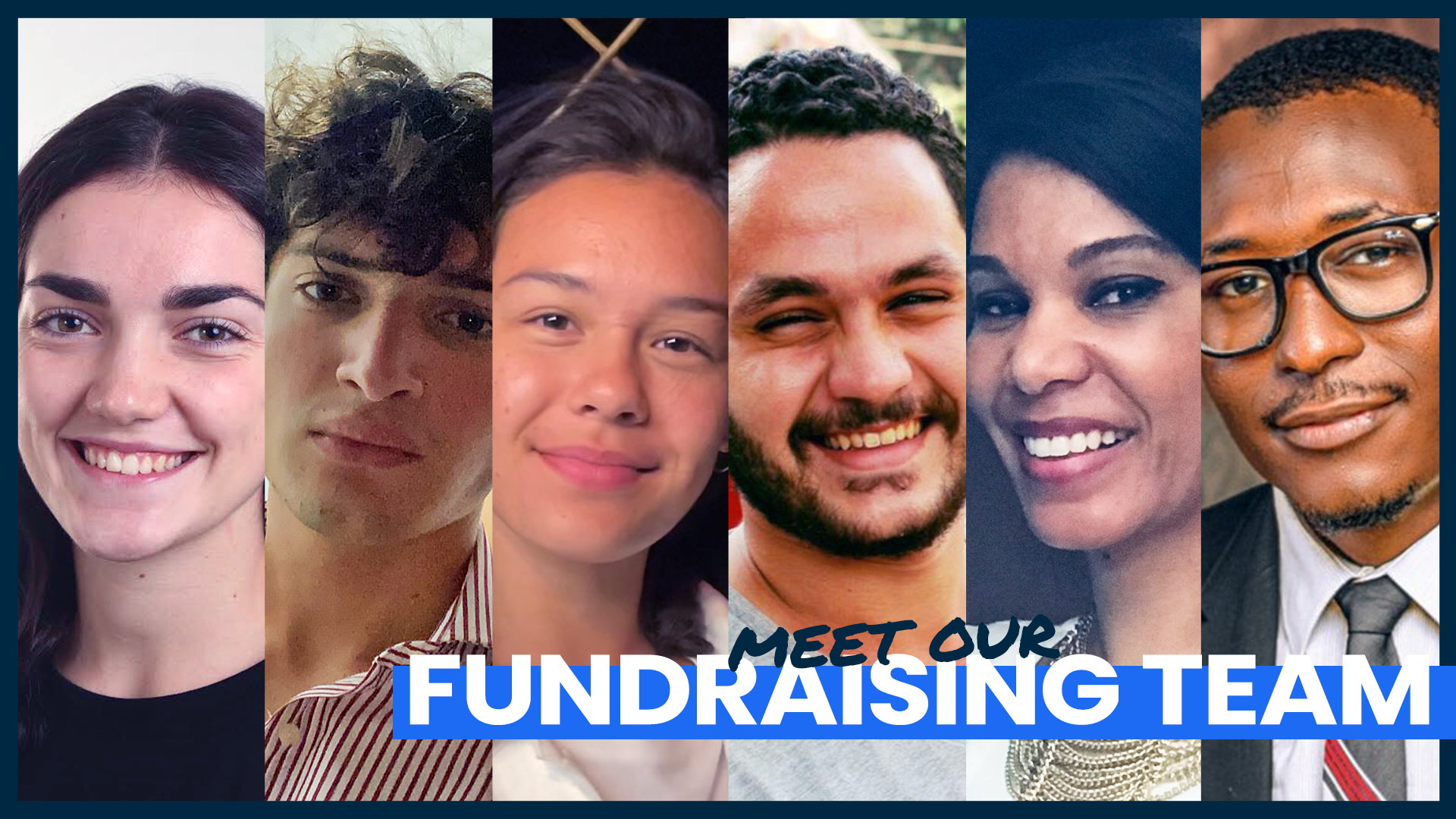 We want to celebrate our Fundraising Volunteers at oikos International. These individuals have joined us from diverse backgrounds with the interest in helping broaden our impact and improve our fundraising efforts. At oikos, we give our young leaders the chance to develop opportunities and try new things. In our Fundraising Circle, most of us have not initially had that much experience in all areas like grant writing, crowdfunding, donor management, or relationship building. That's why at oikos we nurture the atmosphere of learning by doing and giving the chance to create new systems and ways of working and that in itself is a valuable takeaway in terms of knowledge and experience.
With the help of these amazing people we are helping oikos to find the funding it needs to make all of our work a reality. With the work ethic and drive of our volunteers we're reaching out to our network and sharing stories of the lives we touch. We'd like your help with this. If you want to help us learn more about fundraising and broadening our efforts please join us as an advisor or fellow volunteer.
Get hands-on experience in fundraising by joining the oikos team. We value volunteer work and we want to offer our volunteers a learning and growing experience.
Here is our team of fundraising volunteers. We're very proud of their work and celebrate them sharing their attitude and skills with us.
Arianna is an Italian student studying Digital Business in Valencia. No stranger to volunteering, she's amassed quite the experience around the world, accompanied with determination to learn and meet new people and cultures. Teaching Italian and English to others, her journey took her across the world, most remarkably to Brazil, where she had the opportunity to work in a Sao Paolo based NGO. The experience has taught her to be flexible, adaptable and proactive towards change, as well as appreciating cooperation and teamwork. Arianna believes oikos will give her the tools and companions on the journey to creating a meaningful impact. She has a belief in the power of teamwork in making change, with a need of a supportive environment which brings together people, technology and digital innovation to create an impact. With such a motivation, we're certain Arianna will fit right in our team and look forward to seeing her grow!
Emanuele is an Italian student at Bocconi University passionate about business, but also watches and tennis. When applying for our fundraising team, Emanuele was determined to engage in a volunteering project, eager to learn new things while getting to know new people. Aside from bringing his own experience to our team, he is very happy to work together in a team, develop his own leadership skills and many other things, along with the chance for also practicing his English in a professional environment. What drew Emanuele to oikos was the importance and value of sustainability, which is at the core of our organization. By taking part in our fundraising team's project he hopes to contribute in bringing their attention to sustainability and applying it onto modern management. Especially enthusiastic about introducing our mission and vision to various companies, we have no doubt Emanuele will have plenty of opportunities for doing so.
Jana is a St. Gallen based student, with quite a cosmopolitan background, with a Swiss and Nepalese origin, she's previously lived and studied in Mozambique and planning to start her bachelor degree in the United Kingdom this year. Despite her studies oriented towards Biology, she's passionate about the socio-economics aspect of sustainability, which she hopes to pursue scientifically. One of the many such oikees from our community who have a wide range of academic interests, looking to try themselves and learn about new, sometimes polar opposite topics. Naturally, as part of oikos Fundraising Team, she'll often find herself in the company of such students and enjoy the chance to grow her experience. On the other hand, we're very eager to see the exciting and unique perspective Jana's bringing into our team!
Mahmoud is an ambitious student from Egypt, studying Finance and Investment major at the Heliopolis University, along with a scholarship at ZUYD University of Applied Science. We're very much looking forward to seeing his contribution to our Fundraising Team, as he brings in great experience with him. Previously, he's worked as a financial manager at CESIM, a financial analyst for Egyptian banks at his Heliopolis University, along with stints at managing projects and marketing campaigns. Mahmoud also brings in his amazing entrepreneurship skills, and for oikos, a very valuable perspective coming from a city and a region in which oikos only started gaining presence over the past few years. We're excited to have Mahmoud on our team, with his valuable knowledge and experience and are eager to see how this new experience shapes his career further.
Margareth is our Brazilian volunteer with a rich background in Financial Markets, with certificates in the areas of Environmental, Societal, Governmental (ESG) and Impact investing. She works on connecting investors with innovative and impactful startups, which makes her skills a very important addition to our fundraising efforts. For Margareth, joining our Fundraising Team is an amazing opportunity of joining a one of a kind community of student changemakers and is eager to see her contribution to our organization's program in the long-term. She is very passionate about collaborative and multicultural teams and loves being a part of a people-centric workplace, which makes her decision to join our team a very good choice. With the chance to practice her skills in a new environment, we believe it will also be a further learning opportunity and a valuable experience.
Sani is a graduate in Nursing Sciences at the Bayero University in Kano, Nigeria, adorning a title of a Sustainability Ambassador – as an agent promoting SDGs. He is an advocate for women's and girls' education in his community, promoting women empowerment and education, along with climate action and the SDGs overall. Sani brings a wealth of experience to our Fundraising Team the administrative secretary at YMBS and an executive director of Global Development Consortium. An entrepreneurial spirit, Sani founded M M Takalmawa Global Concept, but is also experienced in teaching, coordinating and managing different projects. He is passionate about sustainability, embraces diversity and adventure. We are really excited about the knowledge and experience in and of West Africa, Sani brings to our team and hope it'll see the oikos Community grow in the region.