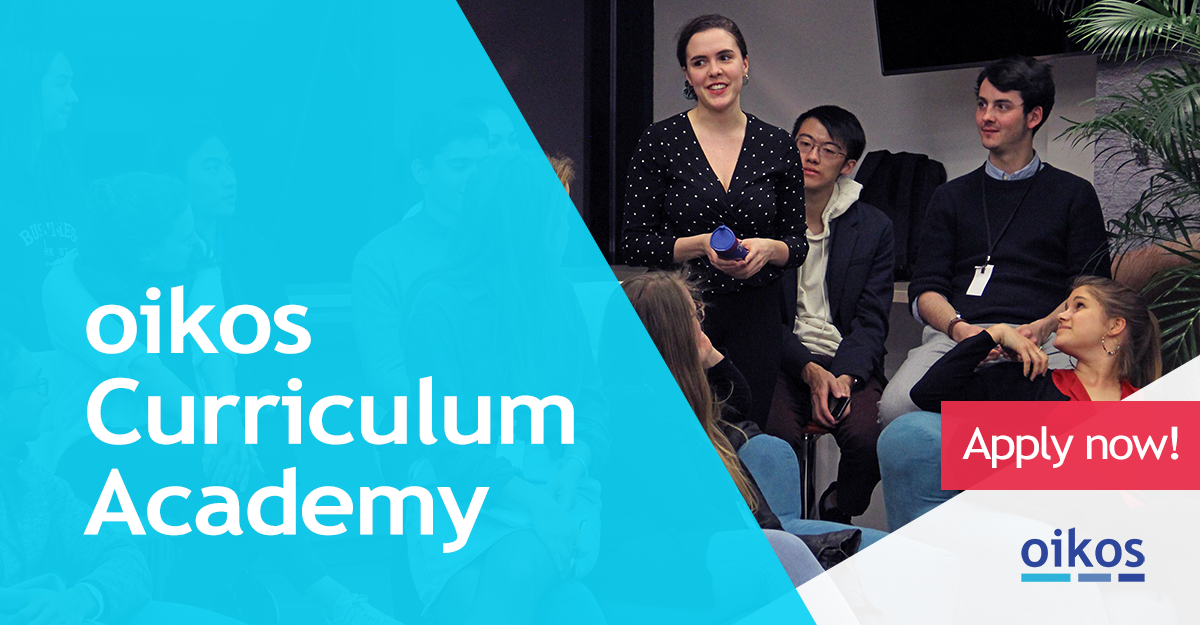 During the 3-day oikos International Academy 2021 (February 26 – 28),
students and early researchers will work together on the topic of "curriculum change" under the guidance of oikos International. The St.Gallen chapter, which is hosting the Academy this year, will draw on
the findings and organise four open input sessions and discussion rounds for the students of the University of St.Gallen (HSG) in the following week – the "Open Evenings".
Open Evenings – Goals
The sessions focus on generating attention for the topic of sustainability at our university. On the one hand, the concrete goal is to initiate a dialogue among students as well as between students, faculties and the university administration. On the other hand, the long-term aim is to integrate sustainability topics into the compulsory curricula.
Open Evenings – Structure
In the week following the oikos International Academy, one session each evening (6pm – 7.30pm) will cover the following topics:
• March 01: Kick-Off – curriculum change from different perspectives
• March 02: Sustainability – the UN Sustainable Development Goals as a framework for positive change?
• March 03: Plural Economics – start your own learning journey
• March 04: Panel Discussion – curriculum change at HSG
oikos St. Gallen
oikos St.Gallen is the leading student-driven non-profit organization for sustainability in economics and management at the University of St. Gallen. Founded in 1987 the organization empowers student change agents worldwide to embed sustainability academia and from there into day-to-day business, government and personal activities. oikos St. Gallen consists of 90 student members who engage in nine projects. The board forms the strategic and operational
lead committed to project development and realization of the mission of oikos St. Gallen. All members collaborate with a wide network of advisors, oikos alumni, partners, and the global community of oikos International. – www.oikos-stgallen.com
Contacts
• President of oikos St.Gallen Anna Kurth (president@stgallen.oikos-international.org)
• Project Head Samuel Halter (coc@stgallen.oikos-international.org)
• oikos International Academy Nicolás Águila (nicolas.aguila@oikos-international.org)
If you want to participate in the open evenings fill in the registration form below.
[simple-button href="https://forms.gle/pPeYgmHZpq5S1CEc7″ color="blue"]Open Evenings Application[/simple-button]