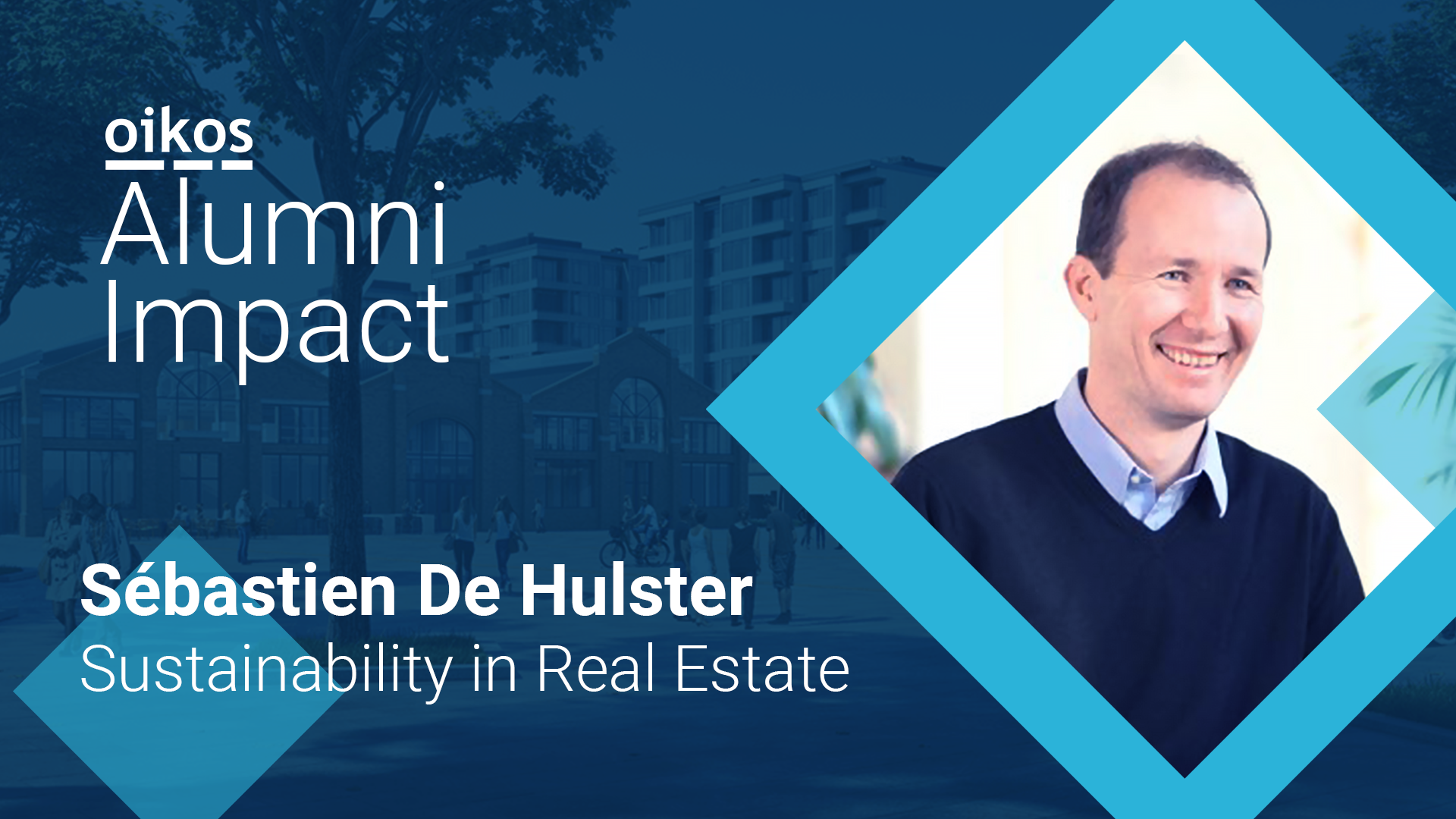 Welcome to the Alumni Impact. The new segment aims to strenghten the connection between the active and alumni oikos members through inspiring stories showcasing the work and impact of oikos Alumni in the world of sustainability. In this first edition we feature Sébastien De Hulster and his inspiring story!
Bellevilles is a personal accomplishment, but above all it's an incredible collective adventure that is just starting!
I was one of the co-founders of the oikos Paris chapter in 2000 which I was excited to be a part of as a non-profit. I was aware of sustainability challenges at the time, but hadn't yet realized the power of sustainable development. 20 years later, here I am: I created Bellevilles – a real estate company focused on local, social and ecological projects.
Many of the things I needed to be the president of Bellevilles, I've learned during my time in oikos Paris. Those years were incredibly rich and fulfilling for me. I was surrounded by many talented people who shared the same energy and passion for what would later be called – ESS : Economie Sociale et Solidaire.
At my business school, there were a few of us interested in alternative business models. We were convinced that you could be profitable while also preserving the environment and the people. The collaborative dimension of oikos I found deeply inspiring. Seeing each person opening up their networks to others and sharing knowledge just to help grow the movement. I really enjoyed my time at oikos, which 15 years later inspired me when naming my own business – Oïkos Développement, to dwell back on that collective energy.
Since 2005, I run a real estate investment company along with my brother, specialising in small town retail. We've always tried to do our job a little differently: ensuring the quality of constructions in the long term and trying to help our tenants as much as possible. But for a long time, I felt like I was just doing "business as usual", feeling it didn't give meaning to my life. Throughout these 15 years the oikos Alumni community helped restore my belief that a better world is possible. Going back as often as possible and hanging out with fellow Alumni who've had the chance and courage to dedicate their professional lives to sustainability was trully insipring.
I learned a very important lesson at oikos : it only takes one person! And each person is an opportunity. So when I was asked me to be a consultant on a mixed-use project (tiers-Lieux) of 13000m2 in Toulouse, I didn't hesitate. And I did well, because I rediscovered my own industry! I realised that real estate can be a very powerful tool for implementing projects which make a positive impact. I teamed up with a group of like-minded friends. With a shared belief real that estate should serve the common good, last year we launched together Bellevilles, Foncière Responsable.
I am very proud of it, because we are filling a huge gap in the ecosystem of real estate companies that focus on social and environmental subjects. People are waiting for it, they want it. It is incredible to feel so warmly welcomed as we start up the company. This amazing support helped Bellevilles successfully do a crowdfunding campaign and collect a record of 2 millions euros, through 730 private investors. This fundraiser is going to help us finance 13 projects in different parts of France: cultural projects in Toulouse, Paris and the countryside, the refurbishment of a small shopping center, the transformation of 9 abandoned banking agencies and the reinvention of a shut down school in the center of a village…
The real estate industry is usually focused on tackling environmental issues. But sustainability is a wider and broader challenge – it encompasses important social issues. Deciding what type of activities are going to be part of a new neighborhood (housing, offices, shops) has a crucial impact not only on how people live on a daily basis, but also on the local economy. Nowadays, real estate is mainly interested in financial profitability. That's why Bellevilles wants to open new horizons and make real estate into a tool that serves people, local communities, economy, culture and leisures.
Recently, Bellevilles was nominated as one of the next generation leaders in city design during the MIPIM, one of the biggest real estate events in France. It's a thrilling adventure not only for me and for my partners Alexandre, Jérémie and François, but also for the fantastic oikos Alumni community we have and all the people who wish to collaborate for a better world.
Sébastien
PS : Writing about this experience makes me cherish the moments I had with Arnaud Z. Dragicevic, Anne-Sophie Hottiaux, Véronique Neuve-Eglise, Charlotte Poul and Benjamin Colin who created the Parisian oikos chapter (and who I am working with now on some of our Bellevilles' projects!). I also admire those who followed this movement and started inspiring companies (Jérôme Lhotte et Alexis Angot). I greet them and I thank them deeply, this success is also theirs.