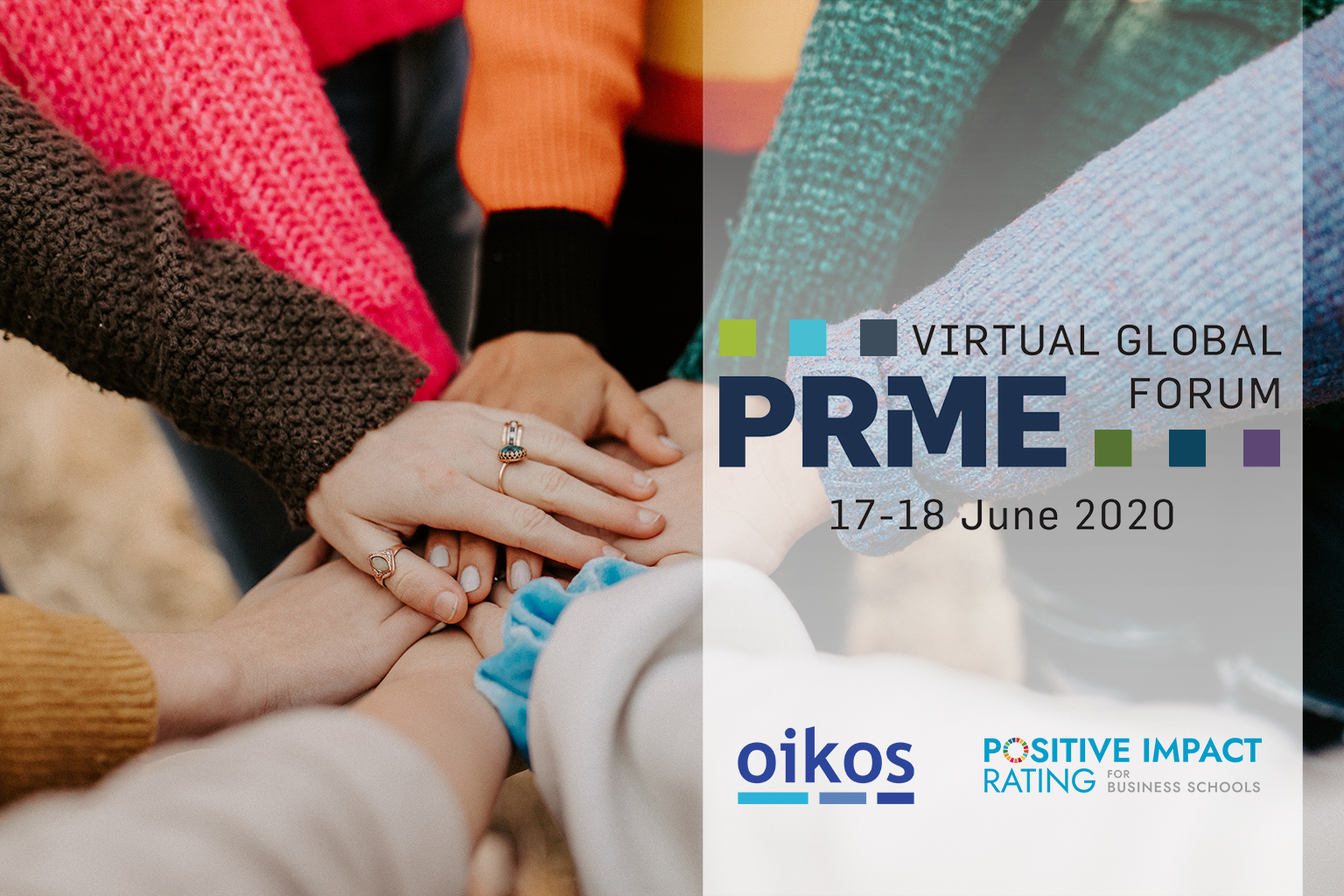 Author: John Watt
Positive Impact Rating Outreach Manager
The Positive Impact Rating (PIR) was featured across several sessions over the past two days at the Virtual PRME Global Forum, contributing to the broader discussion about ways that universities can reimagine their sustainable impact through management education. 
Students played a central role in the discussion, with Clementine Robert, oikos International President, leading a session on the global student perspective on the future of education and how to mobilize towards the 2030 Agenda for Sustainable Development. The PIR was highlighted by Clementine as an initiative students take part in locally and internationally. Shivani Ghai, a panelist of the same session, is a student coordinating the PIR at the Graduate School of Business from the University of Cape Town.
Katrin Muff, President of the PIR Association, facilitated a session on Student Engagement on SDGs on Day 1 of the forum. The session brought together two other rating and ranking tools, WikiRate and AIM2Flourish, that can all have an impact on sustainability in universities. Thomas Dyllick of the PIR Association presented the purpose and methodology of the student-led PIR, which is encouraging business schools around the world to change their aims "from being the best in the world to being the best for the world".
On Day 2, Julia Christensen Hughes of the PIR Association led the discussion in a session entitled What is the Future for Rankings and Ratings to Advance Sustainable? in her role as facilitator. The panel discussed to what extent business school rankings have impacted higher education towards sustainable development and how to exacerbate further development in the Decade of Action. Julia reflected that "we need to engage with leading international organisations for impact rating and ranking. If you want to fast, go alone. If you want to go far, go together".
The Virtual PRME Global Forum took place on 17-18 June. It explored major themes within the responsible management education community to accelerate action for the role of business and management education in the Decade of Action. Key speakers from business, civil society, academia and the United Nations examined global trends in sustainable development and corporate sustainability and highlighted the role of educators.
The PIR is a rating by students for students that seeks to contribute as a lever of change to the transformation of the business school landscape. It measures business schools contributions to solving societal challenges by energizing the school and its culture, educating current and future leaders, providing relevant research results and offers for continuing education, participating in the public debate and by being a role model institution.
The PIR will launch its second edition in Autumn 2020. Get involved as a student or school in the PIR by visiting the website and contacting the team.