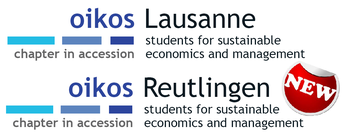 There is no better way of entering the year 2013 than having more fantastic people in the oikos community. We are happy to introduce two new oikos Chapters in accession represented by students of HEC 
Lausanne and Reutlingen University. Read more about their plans and advisors.
oikos Lausanne
oikos Lausanne was kick started by José Luis Ibarra, Sébastien Bianchi, Lucas Bosonnet and
Franck Canavesi, the graduate students of the Faculty of Economics and Management, who strive to combine economy with
 social
 equity
 and
 respect for
 the
 environment. oikos Lausanne already started creating
 links 
with
 sustainable
 enterprises 
and
 institutions in their region and among others going to organize a case study writing competition  in the upcoming semester. The case 
study will 
be focused on real sustainability problem faced by selected enterprise while  students 
will be searching for the best strategies how to solve this issue. Whole case writing should be integrated into the University curriculla and the
winner gets an Internship 
in 
the
 enterprise.
oikos Lausanne is lucky to gain a support from local Chapter Advisor Prof. Guido Palazzo who serves as Director of the Strategy Department at HEC Lausanne.
oikos Reutlingen
Reutlingen became 11th Chapter in Germany which has highest oikos Chapter representation. A team of three local chapter Executive Board representatives, Sophie Lorz, Julia Weiß and Benedikt Lemke already managed to recruit new members. In the next semester, oikos Reutlingen would like to introduce practical approaches towards sustainability, such as green and ethical fashion or responsible consumption.
oikos Reutlingen Advisory Board has spectacular representatives, namely, Martin Pfost – Professor for Power Electronics and Representative for sustainability at Reutlingen University, Matthias Freise – Professor for Fashion Procurement and Retail Buying at Reutlingen University, Kai Nebel – Professor for Textile Process and Product Development at Reutlingen University,  Friedrich Hagemeister – Founding member of "The Greens" in Reutlingen,  Manfred Möller – Chairman of the association operating the fair trade shop in Reutlingen, Eberhard Frasch – Member of the steering committee of "Fair Trade Town Reutlingen", Wolfgang Honnen – Professor at Reutlingen University and Head of "Environmental Protection, Wolfram  Bernhardt – Chief editor of agora42, a magazine for economy, philosophy and life.
Many thanks to oikos International Executive Board Member Christian Bärtsch for guiding both teams through whole application process.
We are looking forward to seeing great actions and development of both, oikos Reutlingen and Lausanne.
Good luck!
Feel free to contact oikos Lausanne and Reutlingen at president@oikos-lausanne.org and president@oikos-reutlingen.org