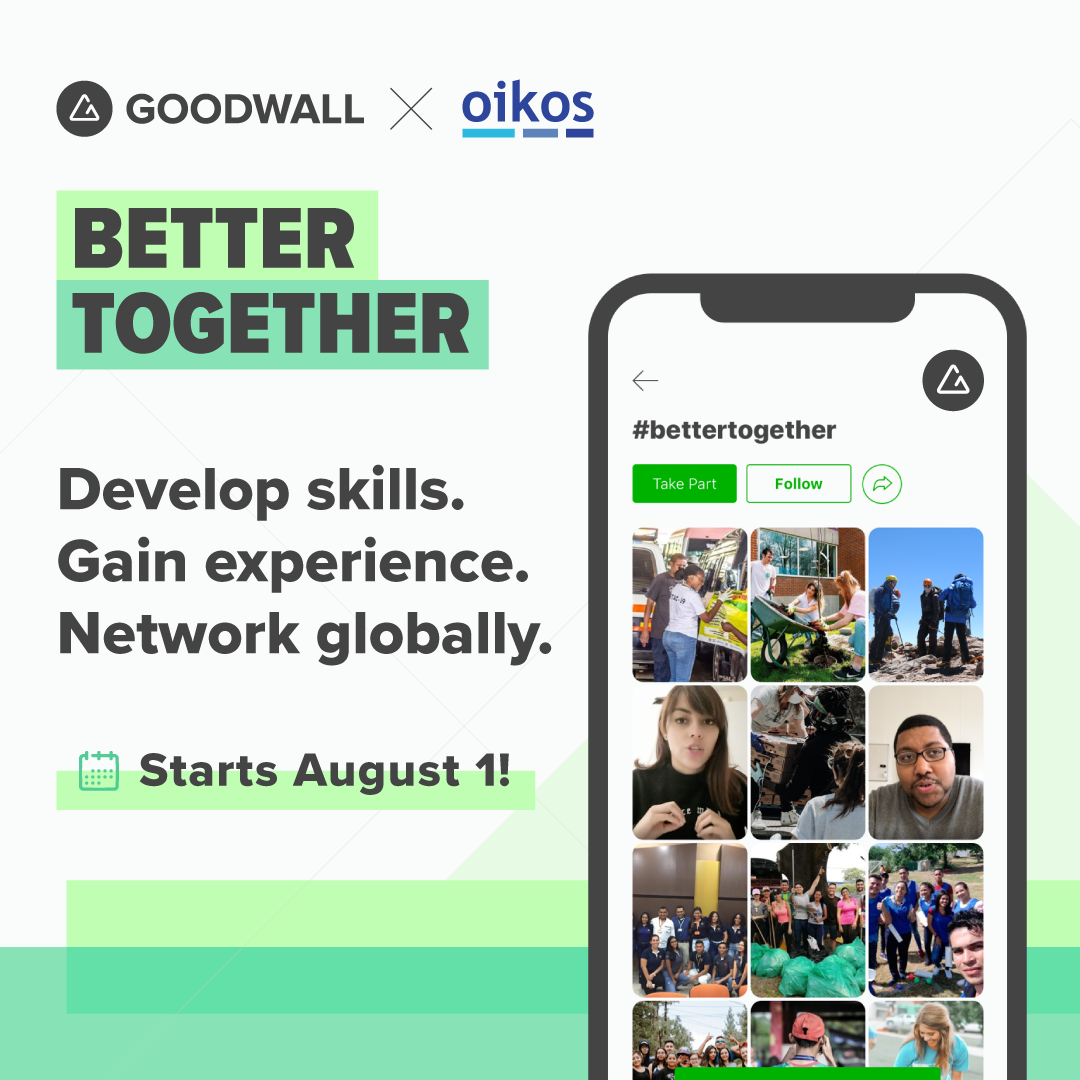 COVID-19 has made life difficult for everyone, but students and young professionals around the world have had it especially hard. The coronavirus crisis has caused internships to plummet by more than half, more than 1 in 6 young people to be out of work, and another 41% to be at risk of losing their jobs.
To counter many of the negative consequences of the crisis, oikos has teamed up with Goodwall and other world-renowned institutions to launch BetterTogether. This FREE, 5+-week online program is specifically designed to help young people prepare for the post-COVID-19 world of work.
About the BetterTogether Program
Taking place between August 1–September 16, BetterTogether is a free online program aimed at helping young people like yourself reach your full potential. Its aim is to help you develop skills, gain experience, and network globally, while also giving you the chance to win up to $25K in prizes for participation!
Here's what's in store throughout the program's 5+ weeks:
A series of 10 challenges to develop skills like critical thinking, creativity, and communication;
Weekly AMA speaker sessions with inspiring leaders and role models, including actress Shreya Patel, climate champion Marie-Claire Graf, comedian Rajiv Satyal, and Ecosia co-founder Fred Henderson;
The ability to connect with over 1.5 million students, entrepreneurs, and young professionals from 150+ countries around the world;
The chance to win up to $25,000 in prizes, scholarships, and exclusive opportunities;
Exclusive access to modules within Pearson's Workplace Behaviors Learning Program;
And much more!
How to Participate in BetterTogether?
Anyone anywhere can participate in the BetterTogether program for free—simply download the Goodwall app on iOS or Android to get started!
Once you're a Goodwall member, you can participate in BetterTogether challenges by posting short videos, pitching ideas, and showcasing achievements, among other things.
You can respond to any number of challenges you desire, and each one comes with its own unique prize. On completion program participants will also receive a digital certificate.
About Goodwall
Goodwall is the next-generation community and social development network built specifically for the needs of Gen Z and younger millennials. Goodwall aims to help students, entrepreneurs, and young professionals by giving them a platform to pitch ideas, share achievements, showcase their talents, highlight their experience, meet like-minded peers, locate jobs and internships, find scholarships, and seek & provide support.
The Goodwall community is made up of over 1.5 million members from 150+ countries across the globe. With 5+ million job and internship opportunities, more than $1 million in scholarships and awards, thousands of volunteer events, and hundreds of online courses, Goodwall is well-prepared to help navigate students and young professionals through this new decade.