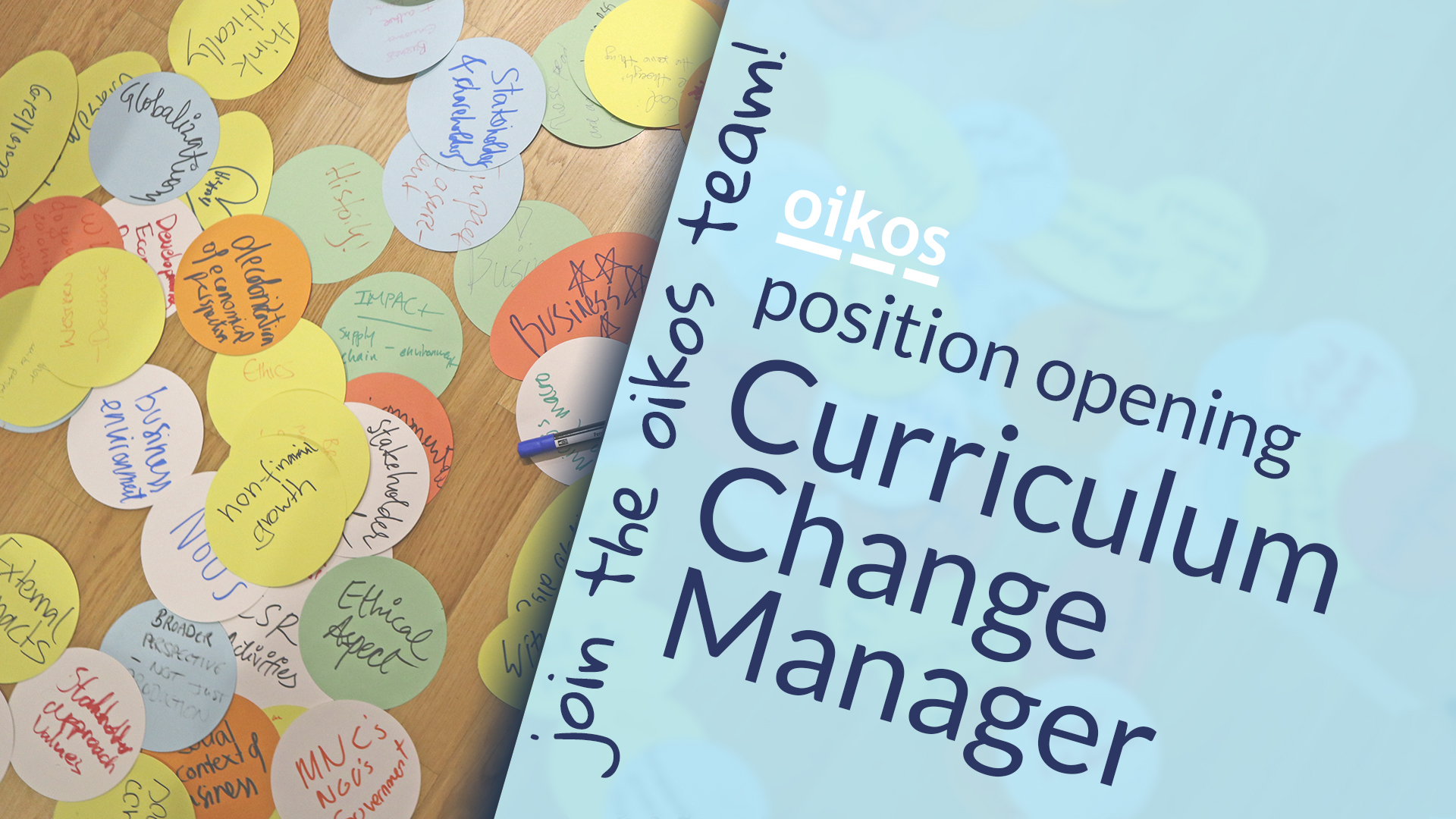 We are looking for an independent, flexible, and resourceful person who is eager to get international experience working virtually and ensure the smooth running of the oikos Curriculum Change Initiative.
Application Deadline: 22nd of August 2020
Starting Date: As early as 1st of September 2020 (October possible)
Duration: Until December 2021 (possible prolongation)
Part-time: (50%)
Location: Remote
Candidate's Profile
Education in economics, business, or related social science at the university level
Interest and commitment to the oikos vision and mission
Motivation to learn and grow, professionally and personally
Ability to critically reflect on economics and management curriculum
Strong communication competencies – ability to engage in constructive conversation about educational transformation with various stakeholders (students, academia, public and private sector representatives)
Good command of the English language, both written and spoken
Knowledge and understanding of sustainable development
Understanding of pluralist/ heterodox economics
Desire to work with students, university representatives and other stakeholders within the field of economics and management education
Ability to anticipate needs, solve problems in a collaborative environment and sensitivity to deadlines
Good organizational and time management skills
Experience with organization of events and workshops
Knowledge or willingness to learn to work with Google drive, Zoom and other IT tools
Desirable:
Experience working with student and/or youth organizations
Experience working on curriculum change at the local or international level
Familiarity with how decisions are made within universities
Tasks and Responsibilities
Working closely with Curriculum Strategy Manager and Curriculum Research Manager on the implementation of the Curriculum Change Initiative
Maintaining close contact with oikos members working on curriculum change at the local level and accompanying them in their curriculum change projects
Facilitating Curriculum Squad Meetings (regular monthly meetings of oikos members interested in curriculum change)
Organizational support and facilitation of curriculum change events (oikos Curriculum Academy, oikos in Residence, workshops with oikos members)
Managing and maintaining all the relevant contacts and communication with key partners and stakeholders (Rethinking Economics, Exploring Economics, Netzwerk Plurale Ökonomik, and Economists 4 Future, etc.)
Assistance with fundraising for the Curriculum Change Initiative
Contributing to the overall strategy and operations of oikos International by attending regular team meetings
If you are interested in the position, send us your CV (max. 2 pages) and a motivation letter (max. 1-2 pages) as soon as possible, latest by August 22nd. The letter should outline why you want to take up the position and what makes you a suitable candidate. Please, email the required documents to president@oikos-international.org with a subject line "Application for Curriculum Change Manager". The candidates selected for an online interview will be contacted at the latest by August 25th. The interviews will be scheduled between August 26 – 30 and the decision should be communicated by August 31st. For any further questions, please reach out to us via email.