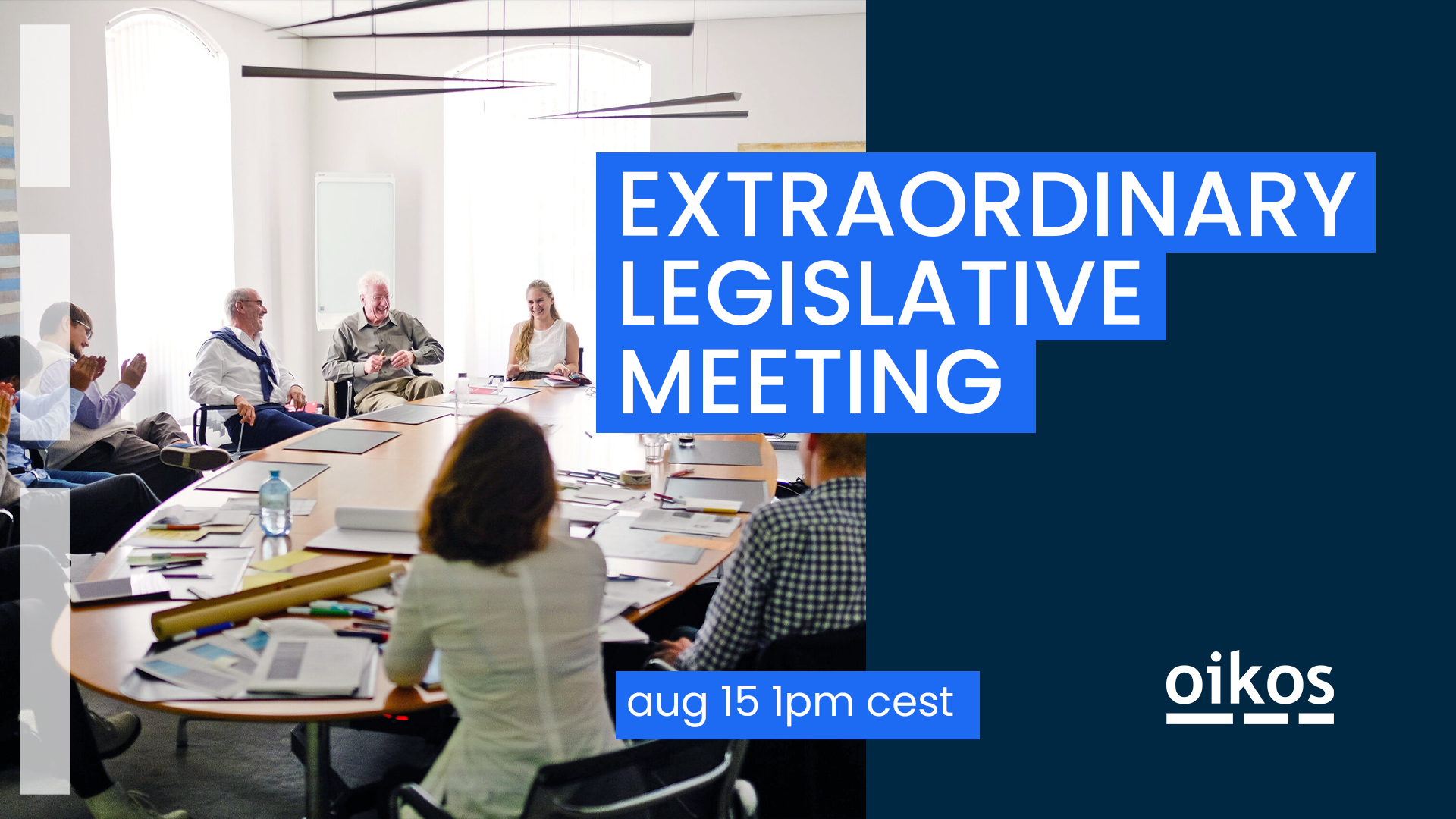 This article is part of a series of articles on oikos Co-Presidency. Here you can find information on the election process. You might want to catch up with oikos Co-Presidency before reading:
Never Lead Alone: oikos shift to Co-Presidency – It offers insights into our decision to shift to Co-Presidency
Open Call: oikos International Co-Presidency 2022-2023 – Do you wish to be a candidate? Find out how to apply.
Hello oikos Chapters, dear Chapter Representatives & Presidents,
The oikos International Board officially invites you to an extraordinary online Legislative Meeting on Sunday, 15.8, 1-3 pm CEST
Make sure that one chapter representative of each chapter registers here until 14.8, 11:30 pm CEST so that we can count your chapter's vote. All other chapter members can drop in using the zoom link provided to all chapters via email. Not registered chapter representatives are not eligible to vote on behalf of their chapter. In case the representative changes, please directly adjust the registration form or contact the Chair of the Legislative Meeting via election@oikos-international.org.
What is a Legislative Assembly, what's a Legislative Meeting?
The Legislative Assembly is the supreme authority of oikos International. It is composed of all oikos Chapters with full membership. The Legislative Assembly meets in order to get informed about the well-being of oikos International and execute their legislative power at least twice a year. Your vote as a chapter directly influences the future of oikos by deciding on strategic directions for the community as a whole. The attendance of every chapter is needed to ensure a transparent, inclusive and democratic continuation of oikos. Due to reasons of accessibility and inclusiveness, the legislative meeting will be held online. For those who have never used zoom before, please join 5 minutes earlier to get familiar with the tool. Here is a general guide.
Why do we have an additional Legislative Meeting this year?
As we are piloting a co-presidency for the first time in oikos history, we will need to vote on a second president by the end of summer in order to enable a healthy rhythm and handover period. Learn more about the co-presidency 
here
. This will be our only agenda element this time.
Who is invited?
The Legislative Meetings are open to all oikees to attend. Just drop in and listen. Even if we encourage all oikees to join, we have to stress that only Full oikos Chapters have voting rights. In the meeting, oikos Chapters are represented by a Chapter representative that is sent by the chapter (oftentimes, that's the president – but any chapter member can be chosen by your chapter to be its representative at the Legislative Assembly and vote on behalf of your Chapter). The chapter representative has to register under the following link until  14.8, 11:30 pm CEST.
Any other person may be admitted to the Legislative Meeting only on the invitation of the chair of the meeting or by resolution of the oikos Full Chapters. For more information about the Legislative Assembly, please read the Constitution of oikos International.
You will receive another email with the detailed agenda of the Legislative Meeting and more information on the voting items within the next weeks. Make sure to read through the materials we will provide and clarify any questions and uncertainties before the session starts so that we have a short meeting with an informed discussion. You can contact us anytime in case something is unclear!
We're looking forward to seeing you soon,
Sophie, Darija & Luisa
representing the oikos International Board