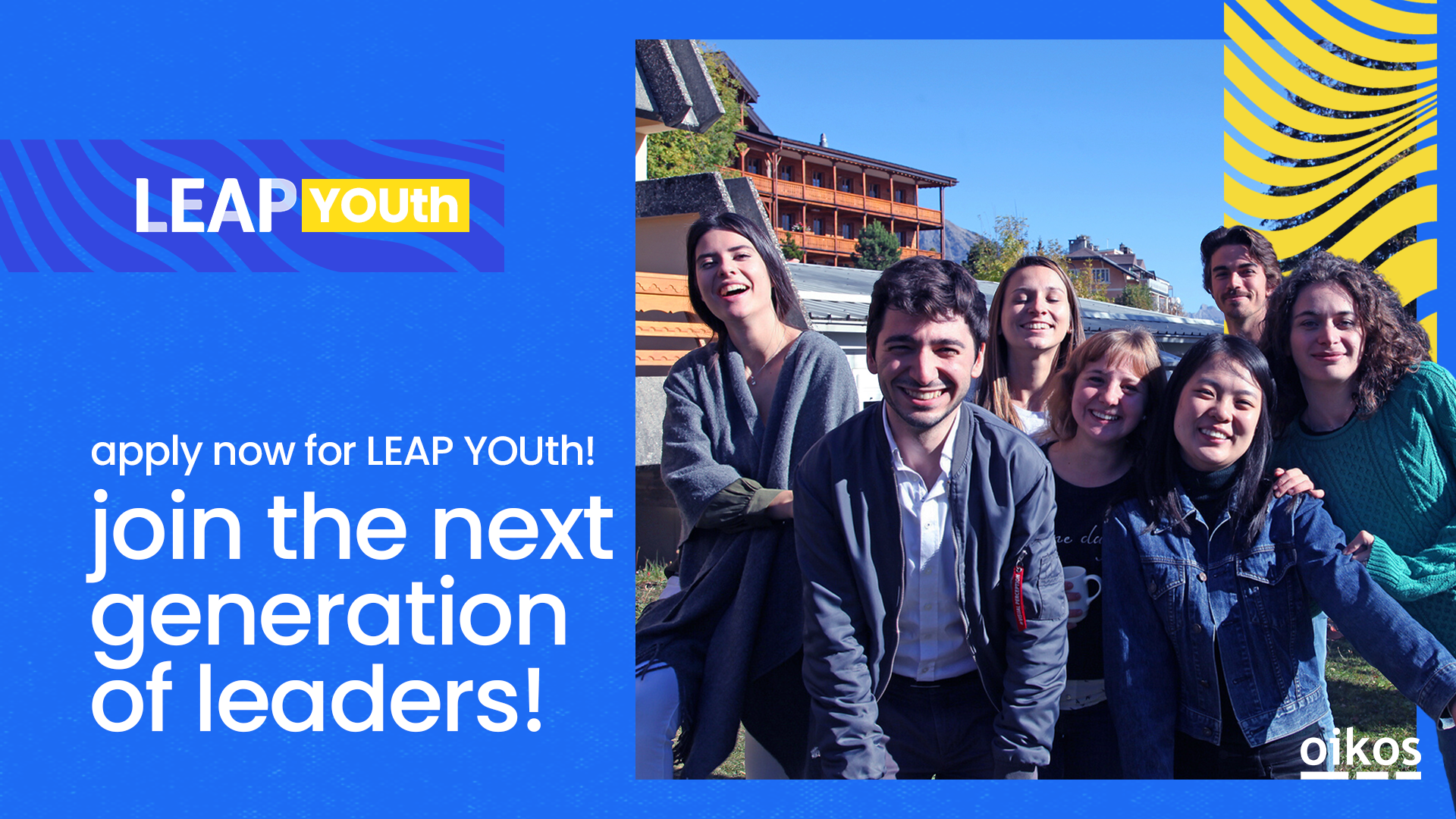 A new generation of responsible leaders is starting to take shape at this very moment, as students around the oikos Community are preparing to embark on their LEAP YOUth journeys – and you can join them!
Applications for the 2023 cohort of our flagship LEAP YOUth program are open until 31 January, with the program kicking-off in February. As part of it, over the following ten months, you'll get the chance to learn about leadership and become a responsible leader yourself through carefully thought out practices and activities that will equip you with a set of skills and knowledge that you need for your future.
Equally important – you will get to know yourself better, dive deep into the world of inner thoughts and emotions, getting a different perspective that can change the way you connect with yourself and others. Through its five modules: thinking, relating, being, collaborating and acting, LEAP YOUth provides you a mind- and heart-opening experience, preparing you to act yourself and inspire others to bring change.
What does the LEAP YOUth journey look like?
The program is ten months long, split into five modules, with each taking up the focus for about two months. Over its course you will get the chance to participate in webinars and workshops, designed and hosted by experts, that cover a wide array of relevant topics. Each participant joins a peer-group with a dedicated facilitator, attending regular meetings and learning spaces built around various group activities.
On an individual level, you have the possibility of working together with professional 1-on-1 coaches who help you in your personal development and tackling challenges with total confidentiality. The program gives you the chance to design and facilitate mini LEAP sessions with what you've learned in your home, professional or any other setting. There are two on-site meetings where you'll get the chance to meet fellow participants in-person, connect and make friends for a lifetime.
What can LEAP YOUth do for you?
LEAP YOUth shapes you into a responsible leader, stimulating your self-awareness and encouraging critical thinking, with an approach often missing in modern formal education. It provides you with competencies and qualities of a leader fit for a sustainable world, aware of the role of inner dimensions that can inspire and mobilize others to create a change in the world.
Graduating the LEAP YOUth program you will earn a special certificate and will have the possibility to stay engaged in the program through facilitating and coaching future generations of LEAPers. Further continuing your journey as a facilitator or a coach will open up a new chapter of personal development – LEAP Life.
What you need to know before applying?
LEAP YOUth was carefully crafted to create an impact as a program in its entirety. Nevertheless, we acknowledge that you also have a life outside the program itself or for different reasons are simply unable to commit to 100% of the program. This should not discourage you from applying for the program, hence we offer you certain flexibility in terms of a reasonable and effective commitment in order to graduate and earn your certificate. You can find more details about it in the application form.
Interested? Apply to join the next cohort of LEAP YOUth by filling up this form.
Click here to learn more about LEAP YOUth.