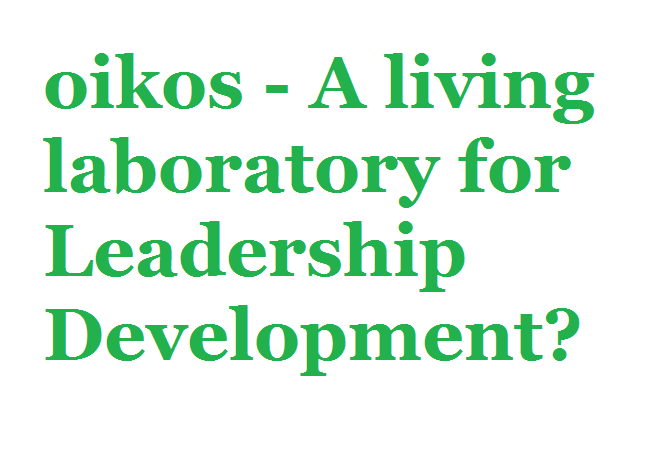 The Leadership Learning Circle 
"My name is Claude and I have the pleasure to serve as the coordinator of this circle.
Being, sort of, a dinosaur with some 25 years of oikos experience in my backpack, I am absolutely convinced that oikos chapters are living laboratories for leadership development.
Yet, at least during my time as the president of oikos St.Gallen, I did not unleash the learning opportunities flowing from our many projects, roles and diverse community.
A little reflection here, and a smart tweak in the process there, would certainly have allowed us to grow more and have more impact. I am sure, you are doing better      😉
To explore and capture this treasure is what this Learning Circle shall be about:
– How do we develop ourselves while we develop our chapters?
– What are great practices to be shared and where do we locate levers for learning?
Not satisfied with the leadership education your school is offering?
Join us and turn your oikos chapter into a playful personal development programme." – Claude Siegenthaler
The FutureLab 2014
The oikos FutureLab is the biggest event in the annual oikos calendar which gathers representatives from the entire oikos community. It provides a 2-day platform for 120 participants to inspire, discover and develop joint perspectives on the future of sustainability in management and economics. It leverages our global network of student members, alumni, advisors, faculty and partners for action. It offers a "laboratory" to design initiatives, engage the oikos community in pursuing them and fuel our journey towards higher impact.
For more information click here.
What are Learning Circles?
A Learning Circle is a highly interactive, participatory structure for organizing group work within a subject area. The goal is to build, share and express knowledge through a process of open dialogue and deep reflection. Within each Learning Circle people with a common interest gain experience, knowledge and establish networks in their chosen subject area. The Learning Circle structure gives the oikos community the opportunity to map the landscape of a specific topic, get in touch with external inspirational experts and systematically spread the knowledge in our network. In 2014, seven Learning Circles were initiated: Leadership, Finance, Entrepreneurship, Energy, Economics, Fashion/Supply Chain and Management.
Learn about other Learning Circles here.