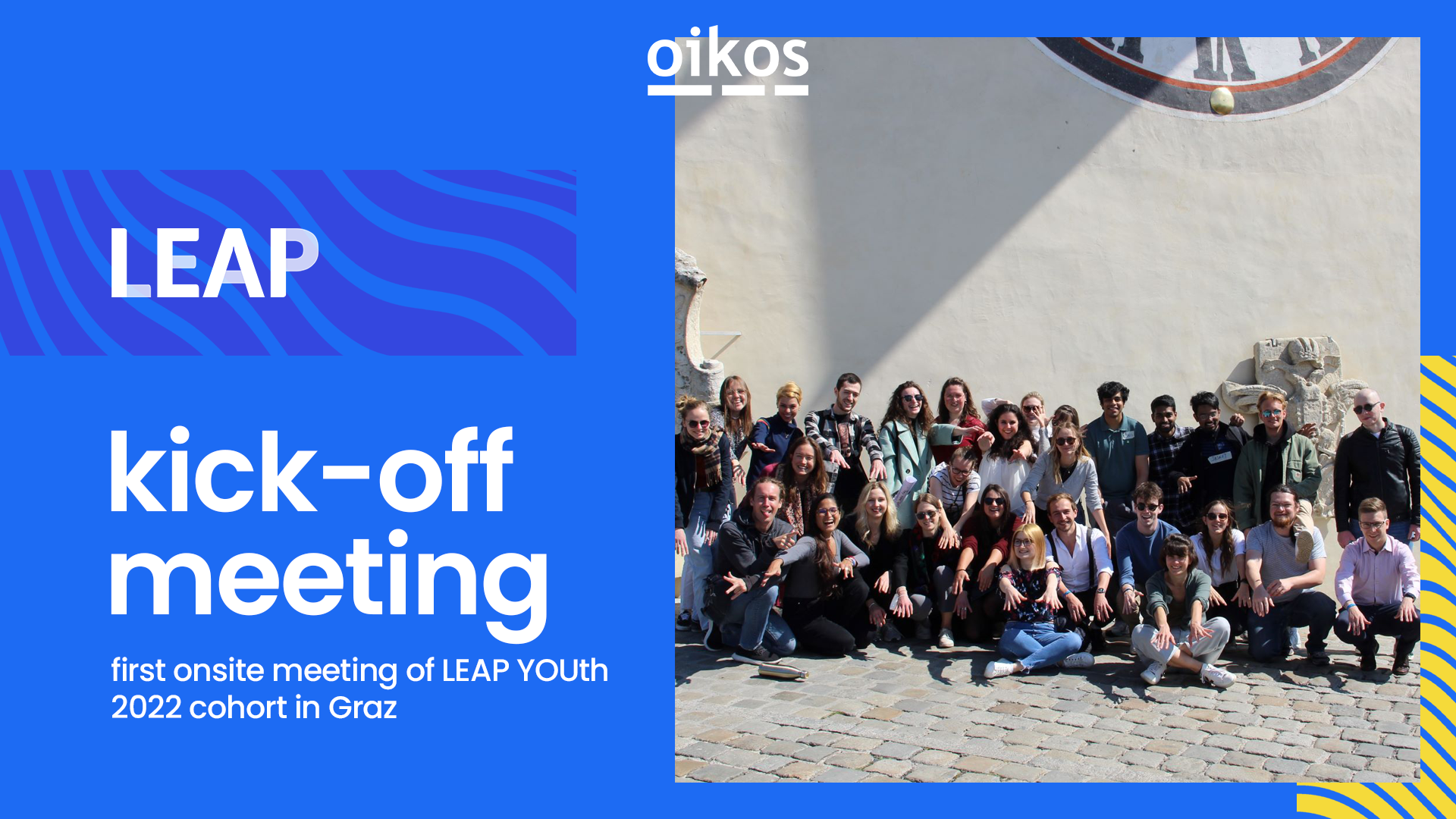 Participants of our LEAP YOUth program's 2022 cohort had the opportunity to meet together in the lively city of Graz, Austria for the long-awaited onsite kick off meeting at the end of April.
The meeting took place from 19 to 21 April, and was immediately followed by oikos International Chapter Conference which began just after the meeting was finalized.
The onsite meetings of LEAP aim to support participants to build a stronger sense of community with each other. Participants get to deepen their understanding and practice of LEAP foundations, culture and frameworks. As the LEAP YOUth program this year is focusing on the Inner Development Goals, and its 5 dimensions – Being, Thinking, Relating, Collaborating and Acting – the onsite kick off meeting was an opportunity for them to dive into and practice the learnings from module 1 – the BEING dimension – relationship to self.
Through different sessions hosted by our amazing LEAP alumni and volunteers, the participants explored how to cultivate the BEING dimension interacting with its themes of:
Inner Compass
Integrity and Authenticity
Openness and Learning mindset
Self-awareness
Mindful Presence.
Participants had opportunities to self-organise their morning wellbeing activities, connecting with themselves through contemplative practices like meditations, reflections and embodiment exercises. They were invited to explore their inner world through discovering and sharing about values, personal challenges, and strengths. Another exercise focused on learning to design and use powerful questions in life while simultaneously listening deeply to self and others.
We were blessed with an amazing selection of locations our sessions took place in! Part of the program was held in the beautiful hill of Schlossberg, allowing more contact with nature while enjoying extensive views of the city. Another very special location was the Spektral, a creative, community open-space and cultural center near the Mur River.
Outside of the session times, a lot of space was provided for getting to know each other, to exchange between multicultural volunteer facilitators and participants, to learn from different perspectives, to share delicious vegan meals, enjoy fun evening activities and party!
A big thank you to everyone involved and the LEAP team is excited to see you all onsite again for our LEAP midterm meeting in July in Switzerland!
Check out what facilitators and participants had to say about their onsite experience:
"This is my second year participating with the LEAP program and I am so happy I came back to it after a year off. The on-site meeting was a chance for me to go deeper with my own learnings while being an example to our participants in pushing our comfort zones and being willing to learn. I greatly appreciated the opportunity to lead a mindfulness and well-being exercise to share what is useful in my own practice from yoga and stretching, thoughts of gratitude, and mental check-in. LEAP really gives all of us the chance to lead and improve ourselves". – Stephen Snider, peer group facilitator and volunteer
"I am beyond happy that I could join the onsite kick-off meeting of LEAP in Graz and get to know in person all the open-minded and inspiring people in this year's cohort, as well people standing behind it. We worked on ourselves to become better listeners and explored the values we are running on. All of that in the unique chilled atmosphere only LEAP can create! Kudos to organizators!" -Viktorie Vlkova, participant
"I thought the onsite Kick-Off in Graz was an amazing opportunity to meet people in person and connect with other people from other countries. A very great cultural experience. This LEAP program is impressing me more every day. I found it very interesting to immerse ourselves in ourselves and see, for example, what our strengths are and what values ​​are most important to us. Also learning to listen to each other carefully, which is fundamental in mindfulness." –Noemi Zmork, participant
"Hey dear reader, I am ilkay and this is the short description of my LEAP Kick-off meeting experience. Enjoy!! I would say it was the most open and accepting event in my life. We all have friends and close people with whom we can share a lot, but it is hard to do so with someone you have just met. And during the meeting it felt like everyone knew each other for a loooong time and the "trust" was so powerful. For me it was the first time to meet LEAPers since 2020, when I was the participant of this program. I was counting hours to finally go to Austria and meet them. The event took place in a lovely place, Graz, and it is definitely going to my top 20 cities list. During the meeting I hosted my first session, I was super nervous at the beginning. And right at that moment I had the support of the whole organizers' team, which was so cute I even teared up a bit, just a bit :D. I really enjoyed being part of the team, I brought back a lot of new learnings about teamwork and friendships." -Ilkai, peer group facilitator and volunteer
"Leap is the place where you maybe don't know anyone in the room at the start but in a second everyone is your friend. It is the place where you share, where you feel safe and the most positive atmosphere surrounds you. I spent almost 2 days on a leap onsite kick off meeting and in this small time had the pleasure to speak on interesting topics with new friends all around the world, given thoughts of my problems, faced them, found solutions and asked powerful questions and most importantly developed. And the favourite session, we shared positive energy with each other, small notes on each's backs, which we will always remember". – Jaba Jabauri, participant
"As a participant of the LEAP YOUth program 2022 I was invited to spend a few wonderful days in Austria during which I discovered more about myself, especially what kind of leader I would like to be. Already before our on-site session we had a few online gatherings which were put together with love and spirit – but they were nothing in comparison to the environment I found in Austria. In just three days I had so many laughs, learnings and joyous occasions that I feel very blessed to have been invited." – Niklas Ziemann, participant