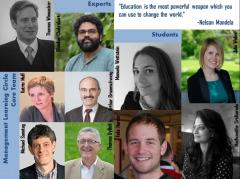 The Management Learning Circle
Business schools create great managers but it is high time they started producing great leaders. And yes, there is a huge difference between the two.
Through the open letter and the campaign that we are working on, we hope to be able to show the Business schools the way forward for this transformation. We are a team of 4 students and 6 experts, who have been working together on analysing the tenets of current education system and its shortcomings. During this process we also identified some very interesting didactics, which can be included in the current system.
During the Management LC's sessions this FutureLab, get involved in analysing each of these didactics using your past experiences, identify the perfect mix of the didactics for your country/university, compare the content taught at business school vis-a-vis the skills expected out of you in the real world, get involved in the campaign content development and more.
The FutureLab 2014
The oikos FutureLab is the biggest event in the annual oikos calendar which gathers representatives from the entire oikos community. It provides a 2-day platform for 120 participants to inspire, discover and develop joint perspectives on the future of sustainability in management and economics. It leverages our global network of student members, alumni, advisors, faculty and partners for action. It offers a "laboratory" to design initiatives, engage the oikos community in pursuing them and fuel our journey towards higher impact.
For more information click here.
What are Learning Circles?
A Learning Circle is a highly interactive, participatory structure for organizing group work within a subject area. The goal is to build, share and express knowledge through a process of open dialogue and deep reflection. Within each Learning Circle people with a common interest gain experience, knowledge and establish networks in their chosen subject area. The Learning Circle structure gives the oikos community the opportunity to map the landscape of a specific topic, get in touch with external inspirational experts and systematically spread the knowledge in our network. In 2014, seven Learning Circles were initiated: Leadership, Finance, Entrepreneurship, Energy, Economics, Fashion/Supply Chain and Management.
Learn about other Learning Circles here.