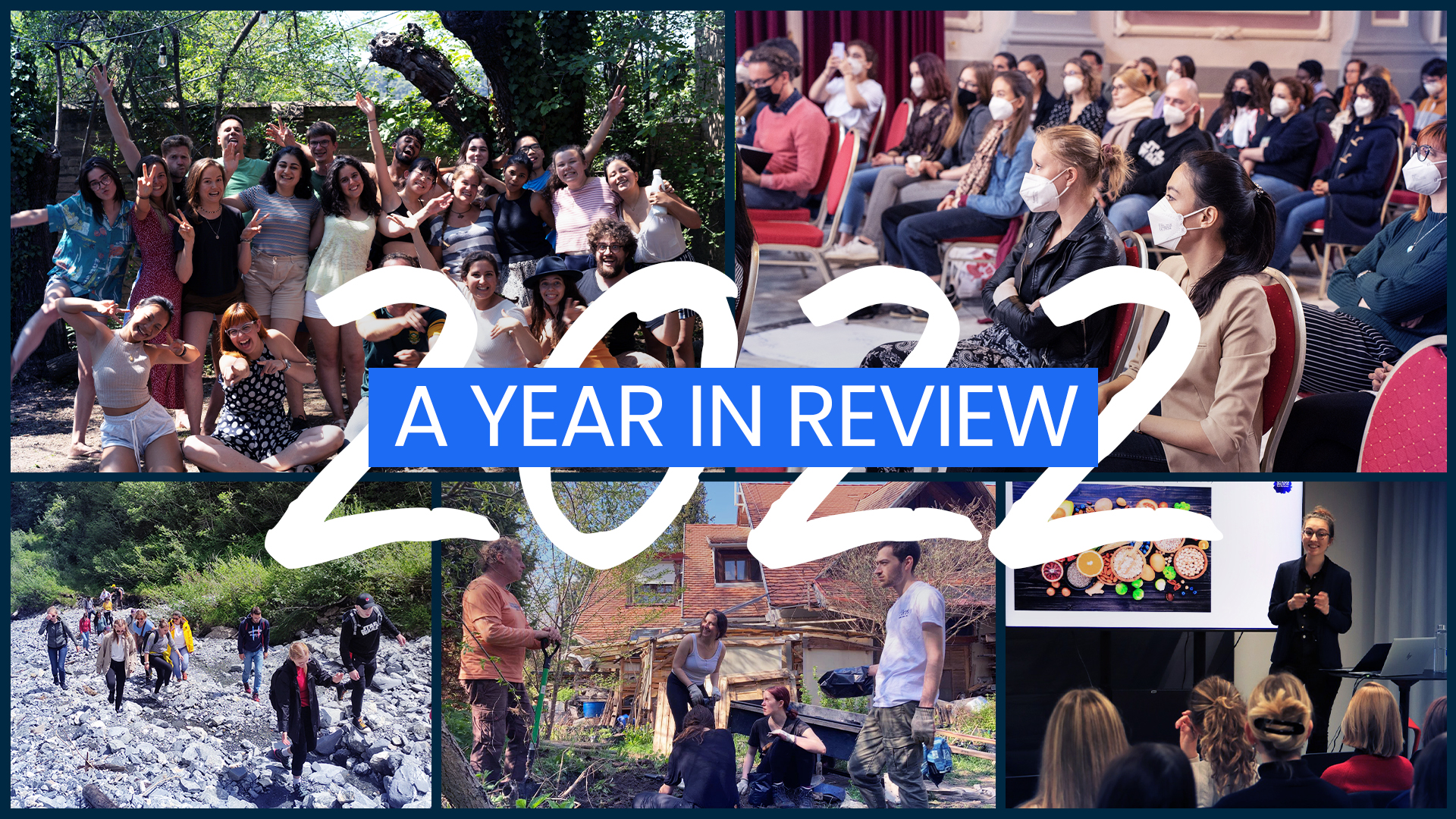 With another year coming to an end it is the best time to look back at the 365 days behind us and everything that's happened at oikos during that time. It was an eventful year for us, full of exciting development both in terms of starting new projects or reshaping and refreshing the existing ones.
January
As we kicked off the year, there was hard work in full swing at a number of projects, among which was reshaping our Curriculum Change Initiative into a new structure with a new name – the oikos Transforming Education Initiative. The new structure in place allowed for better synergy and overview between the different projects and teams within the initiative like oikos Camp, oikos Academy, Curriculum Change Squad, The Stories Squad, LEAP Researchers and Positive Impact Rating. From within the Transforming Education Initiative a new project around TE Stories took off – focused on telling the stories of changemakers at universities around the world and sharing their journeys and experience in making them more sustainable and bringing change from campus to classroom. At this time Principles for Responsible Management Education (PRME) published their book on Responsible Management Education with a chapter which was contributed by oikos International.
February
In February we were excited to finally present the months of effort from a group of active and alumni oikos members working on the oikos HOMEcoming project. The project goal is to reorganize our archives, open them up and make them more accessible to the community, strengthening the connection between our present with the past, while at the same time taking learnings for the future. To launch the HOMEcoming Project we hosted an online get together with oikees from 12 different generations across the 35 years of oikos' existence, looking back at their student days and sharing their oikos journeys. This month was also a special moment for 46 students as part of the 2022 cohort of LEAP Advanced – now under a new name: LEAP YOUth. The new nomenclature reflects the evolution of LEAP that's been taking place since its first cohort was created back in 2015. Today oikos LEAP ecompasses four programs: LEAP YOUth, LEAP Researchers, LEAP Life and LEAP Tools.
LEAP YOUth onlike Kick-Off Meeting
March
In March of this year the LEAP journey of 13 early career researchers from 10 universities began with the LEAP Researchers Kick-off. LEAP Researchers is a nine months long intensive program which supports early career researchers, masters' and PhD students both their professional and personal development. At the same time, their fellow leapers from the LEAP YOUth cohort were well into the first module of their LEAP journeys, focusing on the 'being' dimension of responsible leadership, acknowledging and working on relationship with the self.
April
April was a busy month for the oikos Community, starting with the Spring Legislative Meeting, where chapter representatives elected the new oikos International Co-president for the 2023-2024 term Carolin Lemke. At the meeting oikos Istanbul was granted a full chapter status following a vote by the representatives, with a number of other important decisions made. Not long after, oikos Graz was excited to host the entire oikos Community for the oikos International Chapter Conference in their city. Over the course of four days the sessions would cover a wide range of topics focusing on bringing changes to systems around us, with the belief that all people could make a change and hope of coming together to collaborate and drive the change. It was a large gathering of both local students and members of many oikos chapters, including some LEAP YOUth participants who were hosted in Graz by our team a few days prior to the Conference for the onsite Kick-off Meeting. The intense 3 days allowed participants to deepen their understanding and practice of LEAP foundations, culture and frameworks in person. 
oikos International Chapter Conference in Graz
May
We started off May by announcing the results of the first ever oikos Community Impact Contest which was launched a month earlier. It showcases and celebrates the amazing work done by our Community with every oikee eligible to vote for the project they're most inspired by. After months of preparations, we launched a Rite of passage pilot program in which the oikos International Team participated. The four-day long program focuses on the transition from studenthood to responsible adulthood and was partially funded through a crowdfunding campaign. In the future we aim to make Rite of passage become a regular part of our project portfolio and open it up to the wider oikos Community.
June
Halfway through the year the LEAP YOUth cohort was wrapping up the second Module focused on the 'thinking' dimension of conscious leadership. The Module develops cognitive skills, learning tools and frameworks that support us to make sense of our complex world. Early June saw the launch of the Positive Impact Rating 2022 Edition at the UN PRME Global Forum, exploring the Role of Business Schools in times of crises. The third edition of the PIR surveyed 45 business schools from 21 countries which formed the PIR 2022 Report. Notably the results from the Global South, particularly India, performed better than their peers in the Global North in 2022.
LEAP YOUth Mid-Term Meeting
July
As many students around the world went for a well-deserved rest, our LEAP team was hard at work organizing the LEAP YOUth Mid-term Meeting. This year's edition of the Meeting took place in Churwalden, Switzerland, and brought together oikos students from different countries and backgrounds united in values and goals of growing into conscious leaders of tomorrow. Over the course of seven days they had the chance to exercise the five conscious leadership capacities while getting to know each other better in a picturesque setting tucked between forests and mountains.
August
August was an exciting month with the second oikos Camp taking place in Barcelona, gathering teams working on projects that aim to transform education. A total of six teams of students from all over the world worked closely together to develop sustainability projects that would empower their fellow students to bring the change. One of our Alumni members Benoit Pitsaer decided to take on a trip across Europe by bicycle, riding from Vienna to Istanbul in order to support our crowdfunding campaign and raise awareness on sustainability issues. He set up a goal of €2,500, one euro for each kilometer between the two cities with matching donations from his employer NSI IT & Software. Together we raised over €5,000 of funds which help maintain our programs free and open for as many students as possible.
oikos Camp
September
With the new semester kicking off, we created new formats of Community events, under the name oikos AGORA. With a variety of subjects and topics AGORA allows us to cover and opportunities for the oikos Community to create and host their own sessions, in the future we aim to make it into a regular weekly gathering anyone can join. In September, LEAP YOUth completed its third Module dwelling on the importance of the ability of relating for being a good and responsible leader. It developed participants' interpersonal skills and capacities for relating to self, others and nature with fundamental qualities and caring.
October
The second annual Legislative Meeting once again brought together the oikos Chapters' representatives to make important decisions for our Community. A new oikos International Board was elected, with six inspired oikees ready to take on their new roles and responsibilities for the year ahead. The oikos Family grew bigger with two chapters in accession – Kano and St. Andrews granted the full chapter status by the Community, recognizing their great commitment and effort put into realizing oikos Mission and Vision at their respective campuses. By the end of the month everything was in place for another oikos Academy to take place, and this time in a new format. The local chapters in Barcelona, Graz, Kano, St. Andrews and St. Gallen hosted onsite events at their local universities, along with online workshops open to both local and students from other cities and countries.
oikos Conference in St. Gallen
November
In November, LEAP YOUth participants completed the fourth Module, this time all about collaboration and honing their social skills. It helped them learn how to develop trust and constructive communication, mobilize and engage others with an inclusive mindset in co-creation. Later in the month, oikos St. Gallen finished the preparations for their annual oikos Conference, which this year was open to the international students and Alumni from the oikos network. Over the course of three days the Conference featured various experts addressing a number of different topics around sustainability, focusing on both its individual and collective aspects. One of the workshops at the Conference was the presenting and launching of the Framework for Carbon Neutral Events, developed by the local chapter and made available for the oikos Community. After years of planning and working on new methods of tracing and presenting our impact we finally launched the oikos Impact Matrix. The Matrix we envisioned as an innovative, yet simple tool, useful for tracing the impact of both the oikos International and oikos Chapters' projects. In November we launched the LEAP YOUth fundraising campaign, allowing everyone who wishes to support our flagship leadership program through donation to do so.
December
We started off December with a handover process between the oikos International Co-presidents[…]. The oikos Community grew with a new chapter opening in Amsterdam, adding Netherlands to the oikos map. With the semester coming to a close, we look back at the impact and achievements made over the past few months with another Community Impact Contest coming up. We're looking forward to seeing the exciting projects submitted and how the oikos Community will vote on them, so make sure to keep up, as the results are coming in the new year. After ten months of the intensive LEAP YOUth program and the finalization of the final module, we are delighted to see another generation of responsible leaders complete their journey. With everything they have learned, the fifth module – acting – will help them put it all into practice and drive the change for a better tomorrow.
NSI CEO Manuel Pallage hands the cheque to oikos Co-president Sophie Charrois
Looking ahead at 2023
As we plan ahead for the upcoming year, we have so many reasons to be proud of what we, as a Community, have created this year. There are many things to take away from it, many learnings made along the way and many collaborations formed that, together, we'll take with us into the new year. We head into 2023 filled with energy and motivation to make our impact even bigger, reach more people with our actions and drive the change together!