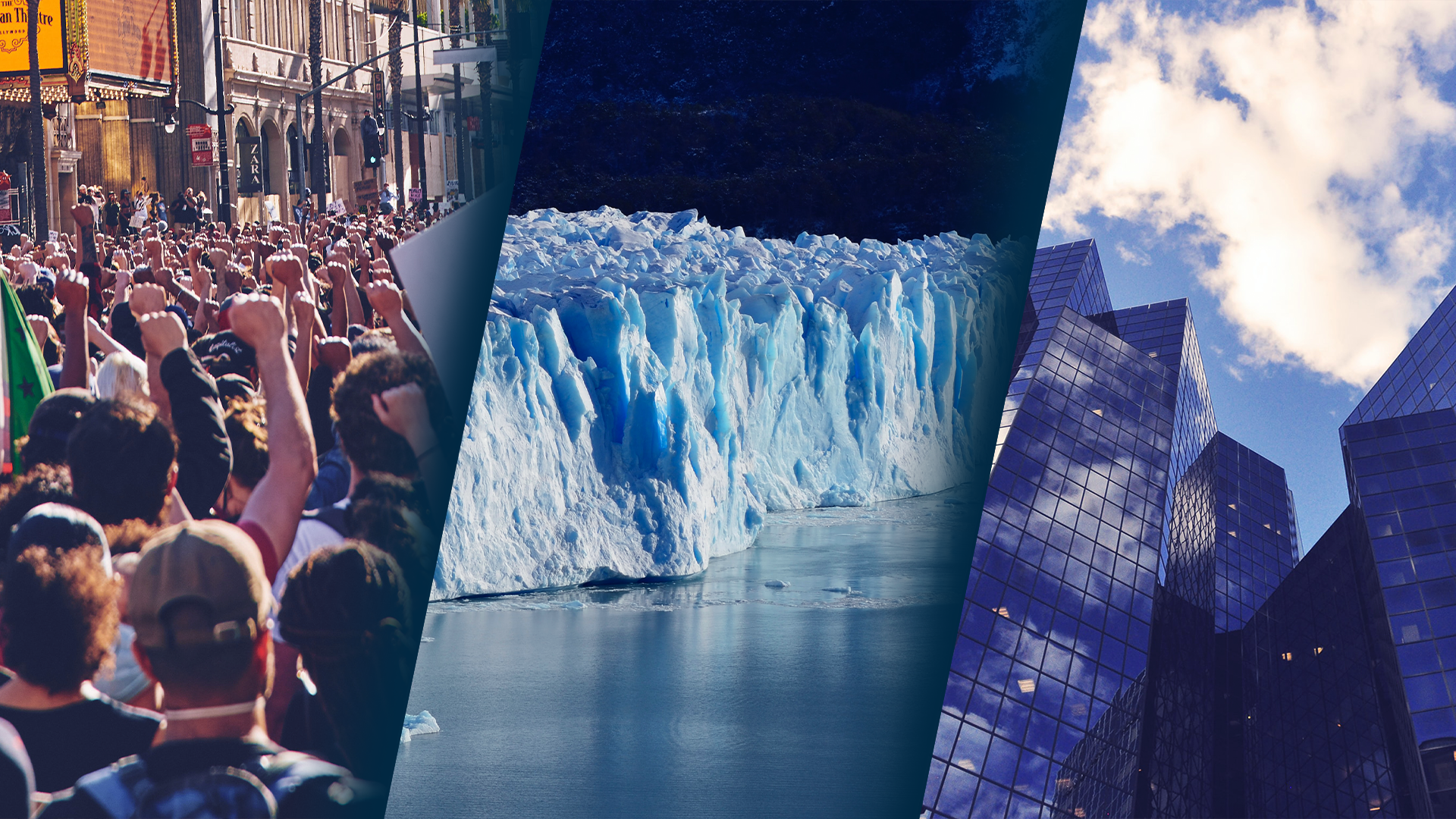 Post oikos Academy Reflections by João Pedro Braga and Stephen Snider
Financial frameworks and regulations aren't often the most exciting topics for students when they are first introduced to them. But when you combine them with global-warming, radical change, and political campaigning we begin to see the need for direct action that students should and want to to be involved in. This topic came to life during the oikos Academy where we witnessed the sustainable finance and transparency activism worlds collide with a presentation from Andy Agathangelou at the Transparency Task Force. Andy shared how their group's work is inspiring social action to fix the financial sector. Students and young leaders have a role to play in fixing these global issues but this is complicated by living in a VUCA world (the theme of the oikos Academy). The acronym VUCA describes the high volatility, uncertainty, complexity, and ambiguity of our world in the 21st century today. In this short blog post, we argue that getting serious about sustainable finance is key to protecting this VUCA world, especially if we are to keep the rising, global-average temperature below 1.5°C.
To address the oikos Academy theme and to showcase tools students can use for advocacy and action in the world they live in, oikos St Andrews hosted a workshop with the Transparency Task Force. This workshop showcased a ground-breaking database of corporate infringements which includes the kind of violations that are having a disastrous impact on society and the environment. The Violation Tracker database is a free-to-use public utility, ready and waiting for students to use the treasure chest of data it contains for applications such as research, campaigning, activism, and corporate governance oversight. For us, this tool demonstrated the need for change within the financial sector to integrate principles of sustainability. If the financial sector does plan to use sustainable finance to address systemic issues, tools like this will test if sustainability is being truly integrated by companies and financial actors.
Climate change presents a daunting challenge to the stability of economic systems around the world. A possible way out of the environmental crises we all face is the notion of a just transition. The Paris Agreement set to keep "the increase in the global average temperature to well below 2°C above pre-industrial levels and pursue efforts to limit the temperature increase to 1.5°C above pre-industrial levels'' (IPCC, 2019). In this sense, a just transition would mean we all can live sustainably and is seen by many as the key development mission of this century. To achieve this mission, the financial sector must not only (1) allocate finance to transition sectors such as renewable energies and transportation, but also (2) guarantee that the climate mission will have the economic impact to tackle broader societal goals framed under the Sustainable Development Goals (SDGs). In short, to get serious about sustainable finance, the financial sector can integrate these 2 steps and thus become truly sustainable in terms of the environmental, social, and governance (ESG) impacts of sustainable investing.
Sustainable finance can be defined as the mobilisation of financial flows toward the sustainability of the environment. Financers address climate issues like adaptation & mitigation projects via sustainable infrastructure investment loans, green bonds, environmental guarantees, and other innovative financial instruments. For financial flows to truly be considered sustainable, the establishment of frameworks, sustainability criteria, and indexes & rankings, are essential responsibilities of the "climate" financial sector. The wide adoption of ESG reporting and analysis will embolden investors to demand change and evaluate the extent to which financial actors embody sustainability within their companies, investments, and portfolios.
Indeed, the concept of what's broadly been seen as ESG finance is central to sustainable finance, providing a market-based evaluation of a firm's engagement with and performance in environmental, social, and governance areas. This ESG data then becomes additional filters managers can use to quantify risk, measure return, and now invest for specific environmental and social impact. Through the valuation of a company, ESG however, can imply a commodification of the planet and assumes that market-based solutions only might be enough to fight climate change. This stands to be seen and is too easily abused by 'greenwashing' and ignores the financial sector's historical role in the destruction of the environment. ESG-based sustainable finance may be green, but will never be just or sustainable by itself. Here is where regulation and tools like the Violation Tracker play a key role.
What stuck out to us when attending the oikos Academy is the need for vast campaigning to advocate for a truly just and sustainable climate financing regime. While our national leaders seem to mostly agree that we need to act on climate change, little is said about how to change our financial sector. There must be action on sustainable finance to include ESG criteria, transparency, and accountability be paramount. Campaigning at all levels of society will be necessary if we hope to garner attention and stand up to political lobbying. Students and campaigners will need to first address the present power structures and thereby establish well-functioning campaigns to make change happen within these power structures. And secondly, empowering action by campaigning and moving people to join.
The limitations of private-based sustainable finance emphasise the need to recover the role of the State in a just ecological transition towards a new pattern of low-carbon, climate-resilient, and inclusive economic structures. This is the case since the State plays a market-shaper role in the economy by directing finance and investing in green industrial policies. Since climate change is a global challenge, international cooperation for sustainable finance represents an alternative approach to private ESG-based finance to fight climate change and achieve the SDGs. In this sense, the agreement of an international fund on Loss and Damage during COP 27 in 2022 was a good outcome of decades of pressure to provide financial assistance to climate-vulnerable developing countries. However, this fight is not yet won as the fund's implementation has been delayed by developed countries since the beginning of the discussions. Without a properly appointed transitional committee, the countries will not be able to advance in crucial definitions for the future fund, such as the sources of financing, priority beneficiaries, and the supervision of these resources (Climate Change News, 2023). This example reinforces the argument that not only do we need to implement the promises of the Paris Agreement but also get serious about sustainable finance.
If you would like to learn more about this topic why not join us for our upcoming event? We're bringing back the Violation Tracker to learn more and apply their data to our local contexts > March 23rd, 1:30pm ET, 6:30 pm CET oikos Presents: Accountability and Finance – oikos (will partner with oikos St Andrews) to share the Violation Tracker UK, from an organization dedicated to sharing legal data on corporations' environmental and social violations. Accountability and Transparency are necessary for a sustainable financial system. Join us as Eleanor Godwin helps us to workshop the actions our financial system needs to take.Register Here!
We are proud to see organisations like oikos and the Transparency Task Force working to showcase topics like this one. We need more campaigners and students involved in networks like these where change can be advocated for. If you'd like to get involved, please consider joining the Transparency Task Force, using the Violation Tracker, and joining oikos International. If you are a student, oikos is a global, student-led, non-profit that aims to transform economics and management education by empowering students, raising awareness for sustainability opportunities and challenges, and building institutional support for curriculum reform. Oikos has over 45 chapters at universities in 20+ countries. They are working to integrate sustainability into their educational programs. With 35 years of experience, oikos has a community of over 1,000 active future leaders, more than 10,000 alumni, and a network of faculty & partners working to change the way we teach and train. You can learn more about these topics using oikos' Sustainable Finance Toolkit. Reach out to us to learn more.
Images by Unsplash